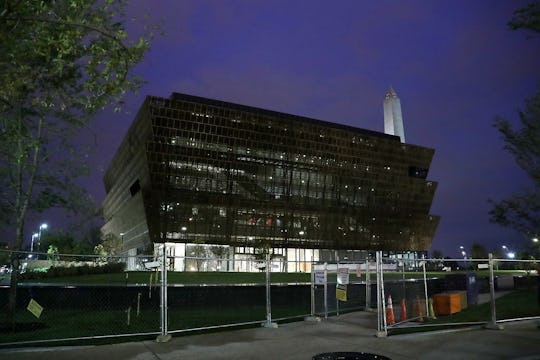 Alex Wong/Getty Images News/Getty Images
Noose Reportedly Found Inside Black History Museum
The fear mongering has got to stop. Each day, people are sent messages and tweets that serve to prove racism in the United States is still alive and well — and it's terrifying. People of color should not have to continue to feel threatened in their own town, let alone the nation's capitol, but here we are again: On Wednesday, a noose was reportedly found inside the National Museum of African American History, rightfully sparking a conversation that needs to be had — enough is enough.
A section of the museum was temporarily shut down after the noose was found by a tourist inside the Era of Segregation 1786-1968 gallery. Smithsonian spokeswoman Linda St. Thomas told BuzzFeed News that the noose was "rather a small rope thing" and removed from the gallery, which re-opened three hours after the noose was found. But the discovery isn't being brushed aside, as Smithsonian Secretary David Skorton has called it "an act of hatred and intolerance." United States park police are investigating the incident, according to the Washington Post.
A noose is an obvious symbol of intolerance and violence, and the fact that one was found inside of a museum celebrating African American culture and history in the United States, in 2017, is saddening on many levels.
Founding Director of the National Museum of African American History and Culture, Lonnie Bunch, had incredibly poignant words to say about the incident, writing in a statement posted to Twitter:
The noose has long represented a deplorable act of cowardice and depravity — a symbol of extreme violence for African Americans. Today's incident is a painful reminder of the challenges that African Americans continue to face.
This is not the first noose to be found on the grounds of a Smithsonian Museum in the past seven days. Last Friday, according to BuzzFeed News, a noose was found hanging outside of the Hirshorn Museum. (The Hirshorn Museum is a premier contemporary art museum along the National Mall.) Other similar incidents have cropped up on school campuses across the United States, according to NBC Washington.
"Other nooses have been found on the Duke University campus, the Port of Oakland in California, a fraternity house at the University of Maryland, a middle school in Maryland, and at a high school in Lakewood, California," a news release from the Smithsonian read. "All of them seem to be part of a larger wave of violence, intimidation, and hate crimes."
When former President Barack Obama opened the museum in 2016, he stated that it "doesn't just belong to black Americans, it belongs to all Americans." To feel threatened to this day, in a museum of remembrance that should be a safe space for all, is absolutely terrifying and disheartening — but if the museum director's words are any indication, those who work there and those who love it aren't going to go down without a fight.