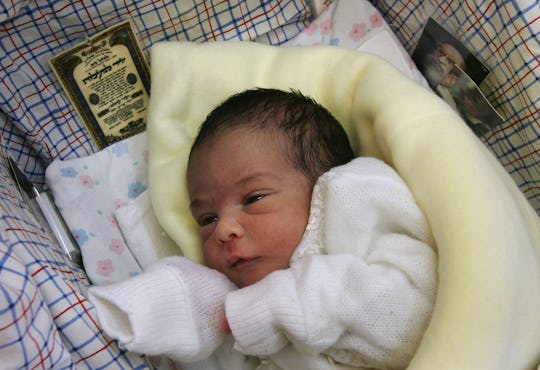 David Silverman/Getty Images News/Getty Images
Norway's Proposed Circumcision Ban Is Political
It's up to parents to decide whether to have their baby boys circumcised. Some opt to have their sons undergo the procedure for cultural or religious reasons; others opt to forgo it because of its limited medical benefits and risk of complications. Traditionally, those of the Jewish faith have their sons ritually circumcised eight days after birth, which is why many of them view the fact that Norway may ban ritual male circumcision as a political, and decidedly anti-Jewish, move. In fact, the political party that voted to back the proposed measure over the weekend, the Progress Party, has a reputation for being anti-immigrant.
Members of the Progress Party itself, though, argue that circumcision rituals such as the one Jewish people have long practiced cause mental and physical harm to children, as well as violate their rights, according to The Jerusalem Post. That, ostensibly, is why the party voted to back the bill that would outlaw the ritual circumcision of boys under 16 at its national annual conference over the weekend.
But Rabbi Menachem Margolin, who is the director of the European Jewish Association, slammed the vote as "disgraceful" and "blatantly anti-Semitic" in a reactionary letter to Israeli Prime Minister Benjamin Netanyahu and Diaspora Affairs Minister Naftali Bennett, urging them to work to stop such legislation from proliferating, the Post reported.
Here's some of what he had to say:
We will act in every way we can to fight this disgraceful bill ... There is no doubt that this is an anti-Jewish decision that is blatantly antisemitic, because the bill does not harm Muslims who are not obligated to circumcise their children as infants and can perform the procedure even at an older ages as the bill allows.
Circumcision is much more common in the United States than it is in Northern Europe, where Norway is located, and many other parts of the world, according to Parents.com. Generally, boys are circumcised just days after birth if their parents decide the procedure is right for them.
The American Academy of Pediatrics' official stance is that "health benefits are not great enough to recommend routine circumcision for all male newborns." Still, it recognizes that there are significant health advantages to it and categorizes parents' decision to have boys circumcised as justified. Some of the health advantages circumcised boys have include reduced risk of urinary tract infections, penile cancer, and some sexually transmitted infections, including HIV, according to the AAP.
But there are some drawbacks, too, according to the Mayo Clinic. For example, there's a chance the foreskin won't heal properly, or that it what remains of it could reattach to the end of the penis. This could require a minor surgical fix.
But in the debate over the proposed bill raging in Norway right now, children's health isn't the only consideration. That's evidenced by the fact that, at the same time the Progress Party voted to back the circumcision legislation, it also established its support for a ban on hijabs in public schools, The Independent reported — an undoubtedly xenophobic sentiment.
For Ervin Kohn, a Jewish community leader in Norway, the message was loud and clear. "They [the Progress Party] must know they won't get a majority for this in Parliament," he told the Aftenposten newspaper, as reported by The Independent, expressing doubt about the bill's chances of becoming law. "It seems like they want to send a signal that we are unwelcome in the country."
This, of course, is unacceptable. When it comes to deciding whether or not a child should undergo any medical procedure, there should be only one deciding factor: that child's wellbeing.