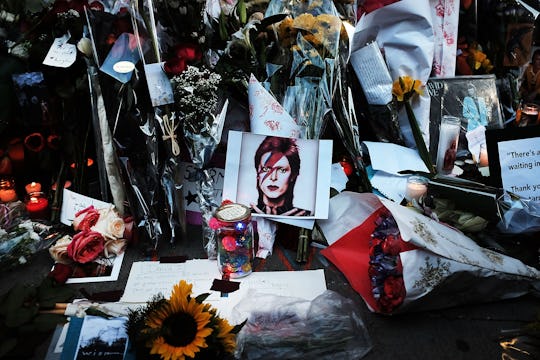 Spencer Platt/Getty Images
NYC's David Bowie Day Is The Best Way To Honor The Late Musician & Honorary New Yorker
It's only been just over a week since David Bowie's passing and his legions of fans aren't done mourning him yet. However, the biggest tribute of all (and believe me, there have been a lot of truly touching gestures) might have been when New York City officially made Jan. 20 David Bowie Day. According to a statement on the late-musician's official Facebook page, at the last performance of Lazuras on Wednesday night (an off-Broadway play co-written by Bowie and starring Dexter's Michael C. Hall), NYC Mayor Bill de Blasio was scheduled to read a proclamation stating that the day had been officially set aside in the Bowie's honor.
It was a wonderful move, but The Big Apple isn't the only city in recent days to honor the musician with an eponymous holiday. Chicago, for example, declared its own David Bowie Day back on Sept. 23, 2014, a little over a year before his death due to cancer in early January 2016.
Bowie's official Facebook page also announced this week that his album had hit the number one spot on iTunes in 69 countries, and that sales of his most recent album, Blackstar, released just prior to his death, had reached number one in the United States, as well as in most of Europe, Australia, and New Zealand.
The memorial on Wednesday night, along with other memorials throughout the city over the past week, are a testament to how important he was to New York City. The city too held a special place in Bowie's life, as he lived in the buzzing metropolis for the greater part of his career, even reportedly calling himself a New Yorker at heart. This past weekend, The New York Times ran a column about Bowie's life as a New Yorker, recounting how he was able to escape (if you ever can, really) fame in the big city, and noting that, like all New Yorkers, he had a long list of favorite haunts near his home and often enjoyed walking empty Sunday morning streets in Chinatown.
Across the city for the past week, fans have been gathering in front of his home on Lafayette and Houston Streets in Manhattan's SoHo neighborhood to pay tribute to him.
New Yorkers famously love to complain about their hometown, but Bowie was openly fond loving NYC. "I can't imagine living anywhere else," he said in a 2003 interview with BeliefNet. "We've been here now, my wife and I, for 10 years."
Bowie's love of the city constantly surprised him, he added. "It's amazing," he said. "I am a New Yorker. It's strange; I never thought I would be."
Bowie's life and his work were bigger than just one city, of course, but it's clear that the city was important to him. New Yorkers aren't exactly known for their sentimentality, but honoring Bowie with a day all his own is a sweet and fitting way for his adopted hometown to say that they loved him back.
Image: Spencer Platt/Getty Images; Dimitrios Kambouris/Getty Images