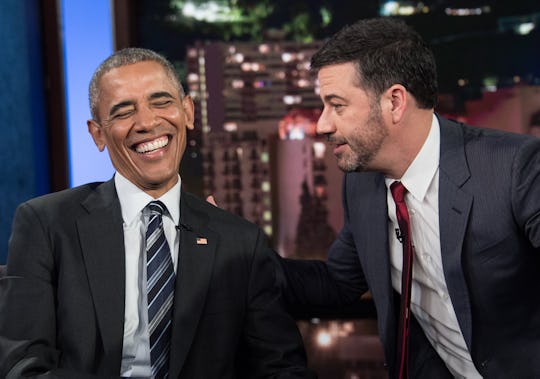 NICHOLAS KAMM/AFP/Getty Images
Obama Mean Tweets On 'Jimmy Kimmel' Show Just How Much He'll Be Missed
President Barack Obama has always had a good sense of humor, particularly when it comes to handling the most ridiculous and unfounded criticisms about his presidency. He's a good sport and he's been known to deliver a dad joke like a pro, making him a perfect participant for Jimmy Kimmel's recurring mean tweets segment. Obama has appeared in the segment before and after a successful first go, he returned to the talk show last night for an encore. These Obama mean tweets on Jimmy Kimmel Live! show just how much he'll be missed.
Most of the tweets featured on Kimmel's show aren't mean in the true sense; they're funny and often silly, but not cruel. Obama read tweets comparing him to Sharknado ("loud, stupid, and over-hyped") and calling both his dance moves and fashion sense into question ("Barack Obama dances like how his jeans look"). He kept his own commentary to a minimum, but his interjections are all charming, particularly when it came to the final tweet – which was from Donald Trump himself.
Trump's tweet read, "President Obama will go down as perhaps the worst president in the history of the United States!" to which Obama replied, "At least I will go down as a president," followed by an epically deadpan mic drop (well, phone drop).
Even Obama couldn't contain a laugh or two for some of the tweets, which included:
@nathan: Barack Obama is the Nickelback of presidents.
@woodstockdave: Obama couldn't negotiate getting a Whopper without pickles.
@heatherfarley98: My mom bought new conditioner and it sucks it isn't even conditioning my hair I blame Obama
In his interview with Kimmel, Obama spoke about the election and his support of Hillary Clinton. "Having worked with her, she is smart as a whip, she works really hard, she cares deeply about working families in this country, and she's not somebody who thinks the job is about flash and sizzle and making speeches," Obama said. "It's about getting policy right and making sure that folks are doing a little bit better."
He also got in a few more funny comments about Trump, explaining that he doesn't tweet in the middle of the night about people who have insulted him; instead Obama gets some sleep instead so he's "actually ready for crises."
With the election getting closer and his time in office almost up, everyone is going to have to enjoy the Obama humor while they can.