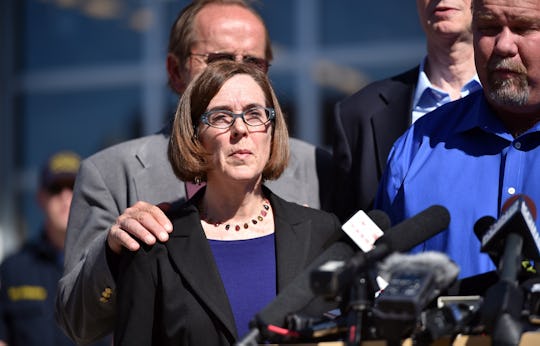 JOSH EDELSON/AFP/Getty Images
Oregon Elects First Openly LGBT Governor, & That's Some Good News We Needed
After the news Tuesday night got worse and worse and worse, some Americans decided to burrow into bed and potentially not come out for a few days. But there was one seemingly tiny-but-amazing piece of news that did come out of the elections on Tuesday: Oregon elected its first openly LGBT governor, and that's pretty damn amazing. Kate Brown was actually the incumbent because she filled in for Gov. John Kitzhaber after his resignation in 2012. So, this was her first time running for the seat in an election, according to NPR.
The importance of Brown's win in the face of such a horrible end to election night was not lost on Twitter users. Indiana Gov. and Trump's running mate Mike Pence has been responsible for incredibly anti-LGBT rhetoric and Indiana's famous Religious Freedom Restoration Act, which allowed businesses and government employees to refuse to do something that violated their religious beliefs, which could include refusing to service LGBT customers. The list of Pence's anti-LGBT moves goes on and on, but another more notable action was when he opposed a law that prohibited discrimination against LGBT people in the workplace, according to TIME.
Thus, Brown's victory is important. Brown's victory shows that not the entire country is homophobic or wants to treat the LGBT population as second-class citizens. Brown was reportedly outed in the '80s as bisexual, and, she said in an interview with the Washington Blade, according to NPR, that she embraced her identity as a message to other LGBT people:
You can't be what you can't see. If I can be a role model for one young person that decides that their life is worth living because there's someone like them in the world, it's worth it.
Specifically, Brown said that she is glad she can bring visibility to the bisexual identity. She told the Huffington Post:
I have people come up to me on a regular basis and say, 'I'm bi, and thank you for being out.' There's not a lot of us.
Brown certainly gave Twitter users who were feeling hated by the election of Pence something positive to celebrate.
After a night when it appears that Donald Trump has become the president-elect, it's important to look at and note small victories. The LGBTQ community will not stop fighting, nor will those who stand with the Muslim community stop standing up for them. We are all in this together, and that's something that Brown's election can remind us of.