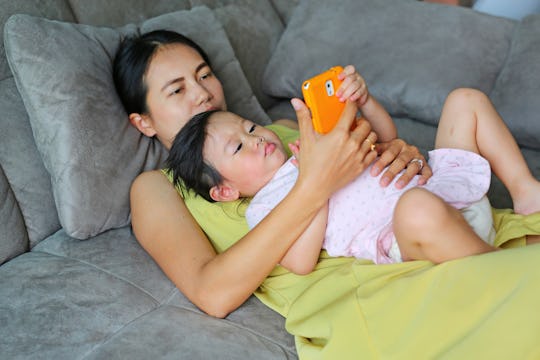 zilvergolf/Fotolia
Passive Parenting Can Sometimes Be A Good Thing — Yes, Really
I must admit that, usually, I'm a helicopter parent. I hover above my children, then swoop in as needed to make sure they're safe and/or don't break something. But my family just moved to a new state so I'm exhausted, overwhelmed, and adapting as best as I can. That means my hovering days are limited and, to my surprise, I've noticed how my change in parenting style has affected my children. Turns out, passive parenting is a good thing, you guys. No, really. Like, I'm being serious. I just can't believe I didn't figure this out sooner, especially since my partner is the passive parenting king.
I've learned a lot from my partner over the years. Still, sometimes I don't think he's doing enough as a parent. Then again, I do have a tendency to overreact, over-parent, and over-analyze every single thing. Whoops? Yeah, we'll go with "whoops." So you can imagine when his laid-back parenting style and my hyper-vigilant ass meet in the middle, parenting magic happens. We balance one another out, to be sure, but that doesn't mean I couldn't stand to take a few more pages out of his passive parenting book.
The older my kids get, the more I see how beneficial it might be to adopt at least some of his passive principles on occasion. Maybe I don't have to be so extreme all the time. Plus, my kids seem to appreciate me more when I'm not (surprise, surprise) hovering over them every hour of every day. So with that in mind, and because none of us are above self-improvement, here are some moments when passive parenting really is a good thing. I can always go back to the helicopter life tomorrow, right?