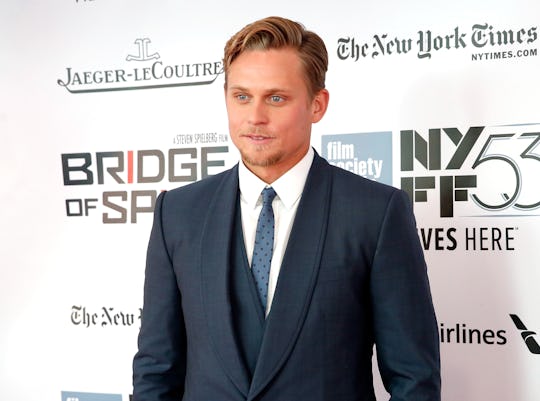 Rob Kim/Getty Images Entertainment/Getty Images
Here's Why People Are Accusing Disney's 'Aladdin' Remake Of Whitewashing
It seems the cast of Disney's live-action remake of the 1992 animated film, Aladdin just got a little bit bigger: On Tuesday, news broke that Into the Woods actor Billy Magnussen will join the ensemble in an entirely new role written for the Guy Ritchie-directed flick, according to The Hollywood Reporter. Reactions to Magnussen's casting were swift, and it seems most people aren't happy about Disney's Aladdin remake. Critics say the new character whitewashes the original 1992 cartoon, which is coded to be set in the Middle East. (Romper reached out to Disney for comment, but did not hear back at the time of publication.)
According to The Hollywood Reporter, Magnussen will play Prince Anders, a brand-new character that will appear in Disney's live-action adaptation of Aladdin. Not much is known about Prince Anders, as other character details have yet to be released, THR reported. Still, despite the lack of information, Aladdin fans took Twitter to express disappointment with Magnussen's casting, as well as the decision to write Prince Anders into the movie at all.
Many critics felt that adding a white character to a film set in the Middle East exemplifies Hollywood's problems with race and diversity. Others felt the new role sullies the original 1992 animated film, and did not need to be added to the story line.
The response to Magnussen's role in the Aladdin remake is not the first time Disney has faced backlash over the live-action reboot. In July, Disney came under fire when news surfaced that the company had trouble casting the lead role of Aladdin. According to Glamour, while the original Aladdin story took place in China, the 1992 Disney version is known to take place within the Middle East. Many fans criticized Disney for considering actors who were not of Middle Eastern descent, and instead, seemed to be treating all South Asian and Middle Eastern cultures as interchangeable.
Disney, though, ultimately cast an actor of Middle Eastern descent as Aladdin. According to Entertainment Weekly, the company announced at last month's D23 Expo that Mena Massoud, an Egypt-born, Canadian-raised actor known for his work in The CW's Nikita, will star in the titular role. Massoud joins Will Smith as Genie and Power Rangers' Naomi Scott as Princess Jasmine. Saturday Night Live alum Nasim Pedrad will play Jasmine's friend Mara, another original character written for the live-action film, according to The Hollywood Reporter.
It's understandable why Magnussen's part in the Aladdin remake has fans disappointed. Aladdin is ultimately a story about people of color, whether true to the original tale or the 1992 animated version. But not much is known about Prince Anders, so it would be interesting to see how that character will fit into Aladdin's world.
Check out Romper's new video series, Romper's Doula Diaries: