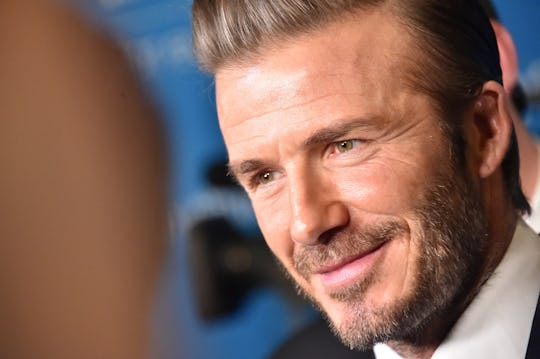 Mike Coppola/Getty Images Entertainment/Getty Images
People Are Being Weird About This Pic Of David Beckham
The internet can be a very creepy place indeed. To illustrate that fact, people reacted really creepily to a photo of David Beckham with his kid that he posted on his Instagram page on Thursday. Because not even an innocent photo of a father and his daughter on social media is safe from scrutiny these days, I guess.
The Daily Mirror reported that David Beckham shared a picture of himself kissing his 5-year-old daughter, Harper, on the lips, and people had all sorts of feelings about it. According to that publication, comments included such gems as, "Why do this? We don't need to see it," "To be honest kissing your daughter on the lips is a little weird... yes it is," and "I try not to judge but I can't help but think it's pretty weird that he kisses her on the lips considering her age."
Luckily, some others responded more positively, according to the Huffington Post. "Ignore the haters," one person commented. "They're stupid. Harper is not a teenager, she's a little girl and there is nothing wrong with it." And another posted, "I kiss all three of my sons because I love them, end of story. We need more love and less negatively in this world. Hugs to you and your family."
And then came the creeps.
As GoodToKnow noted, many of Beckham's 37 million Instagram followers, "were complimentary of the sweet image, with many referring to it as 'beautiful' and 'cute'." But other comments were, honestly, downright weird.
"I can give a kiss to daddy too ? 😍 very sweet 😘😘" one commenter replied. And another said, "Be my daddy david!!!!" Other replies included comments such as, "Plzzzz be my 'daddy'" and "I want to kiss you too," followed by a ton of emojis.
Now, I have no idea why anyone would think comments like that are appropriate on a photo of a father kissing his daughter. But then, I also have no idea why people find a photo of a father kissing his daughter inappropriate. Is nothing acceptable to you, internet people? Is nothing sacred?
And would people's opinions or reactions to the image change if it had been a son he was kissing instead of a daughter? As Us Weekly reported, Victoria and David Beckham have four children — Brooklyn, Romeo, Cruz and Harper — and I can't help but think the comments on a photo of him kissing one of the boys would be entirely different than that of the photo Beckham did post to his social media account.
As CNN reported, back in 2016, Victoria Beckham posted a photo of she and her daughter Harper giving each other a kiss on Instagram as well. So clearly, this is a common ritual for the Beckham family.
As Metro pointed out, Victoria faced some fallout over her picture, but there seems to be a lot more negative outcry over David's photo. "A man kissing his daughter is, it seems, much more objectionable than a woman doing so," author Rebecca Reid wrote.
Why? Their daughter is still very young, and likely doesn't have much of a concept of romantic kisses outside of what she might see her parents do now and again, or maybe in movies or on television. And she almost definitely doesn't have any idea of any sort of sexual aspect of kissing. It's other people who made those connections, and some even went one step further and sexualized David in the photo he posted.
The fact that people reacted so creepily and negatively to Beckham's photo is very disappointing. Most parents carefully pick and choose what moments from their children's lives they want to post online, and celebrities like Beckham have to deal with protecting their images and their children from things like paparazzi and unscrupulous "fans" as well.
What Beckham probably saw as a beautiful moment that he decided to share with the world has turned into both a debate and the target of people who cannot separate sexualization and a father's love and affection. It's too bad the daddy-daughter moment couldn't just be the sweet snapshot he likely intended it to be.