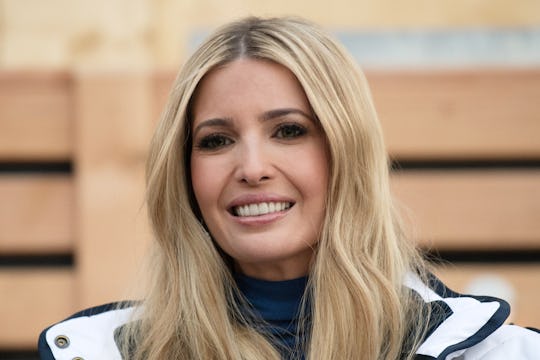 Carl Court/Getty Images News/Getty Images
People Are Not Happy About Ivanka Trump's International Women's Day Message
In celebration of International Women's Day, Ivanka Trump took to Twitter on Thursday to share a message about empowering and championing women across the globe. And while the tweet might seem innocuous at first glance, many people can't help but point out the major issues with Ivanka Trump's International Women's Day message. In a not-so surprising twist, the internet is seriously *pissed* that Ivanka touted the White House's supposed commitment to women's achievements and support of women overall, despite there not being much evidence to back up her claims.
Ever since Ivanka accepted (or simply gave herself, depending on your view) the position of senior White House adviser in March 2017, she has drawn criticism for her flip-flopping and lack of action on women's issues. Making matters even more confounding is that every time you think Ivanka is about to take a stand for women's issues, like when she met with Cecile Richards, the President of Planned Parenthood, in January 2017, she goes in a completely opposite direction. Case in point: While Ivanka did help to increase the child care tax credit in the new tax bill, she also expressed support for the bill itself, despite the fact that it will put the well-being of countless women and their families in jeopardy. It's this type of behavior that makes people wonder how it's possible for Ivanka to view herself as an advocate for women.
But what's perhaps most upsetting to people about Ivanka's supposed advocacy for women is her unwavering support of the White House and her father, President Donald Trump. Not only does Ivanka back Trump in the light of the multiple sexual misconduct allegations against him (all of which he has denied), she has yet to criticize the White House's lack of initiatives to empower women. The White House did not immediately respond to Romper's request for comment.
Yet, despite all of this criticism, Ivanka thought it wise to pen an International Women's Day message, writing, according to Twitter:
Today we come together in recognition of women at home & around the globe. We celebrate women's achievements, past & present, & pledge to empower women to reach their full economic potential for generations to come. When women thrive, we ALL succeed.
Of course, the internet couldn't wait to pounce on Ivanka's note. For starters, many people called out her lack of self-awareness:
Others questioned her allegiance to Trump:
And most notably, people called out the White House's failings on women's issues. One can assume the White House was brought into the conversation due to the use of "we" in Ivanka's message.
Whether you agree with the criticism of Ivanka or not, it's difficult to argue that the White House is actively supporting and elevating women. From dismantling of the Affordable Care Act (ACA) to banning the Centers for Disease Control and Prevention's use of the terms "fetus" and "science-based," to name a few, the White House did little to champion women in 2017. And if you take a closer look at each policy put forth by the Trump administration in the past year, women always end up on the losing side. In fact, one might argue that the White House is actively working to undermine women's fight for equality.
But how doesn't Ivanka see the hypocrisy in her International Women's Day message? Is Ivanka really that tone-deaf? The answer to these questions is probably no. Being tone-deaf means a person is blindly ignorant to their hypocrisy, and it seems like Ivanka doesn't fit this bill. In April 2017, for example, Ivanka claimed not to know what "being complicit" means, and her supposed lack of understanding of the term sparked widespread criticism.
Of course, there is always hope that Ivanka will one day listen to her critics and that she'll try to understand what it truly means to advocate for women's issues. Until then, there's a good chance her messages will continue to inspire outrage.