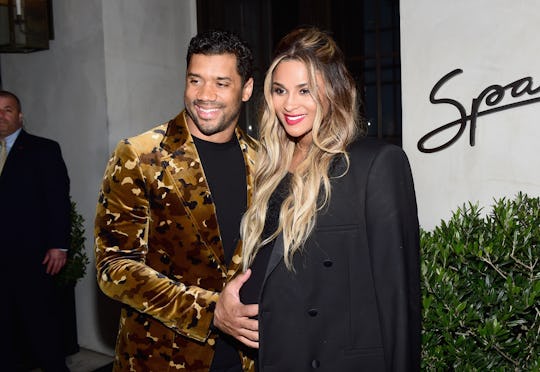 Emma McIntyre/Getty Images Entertainment/Getty Images
People Are Mom-Shaming Ciara For This Ridiculous Reason
As the world has become more connected than ever before, new ways of bullying have also become more commonplace. Especially for well-known celebrities, having a social media channel has started to turn into something that can be quite damaging to one's self-esteem. With anonymous trolls commenting their hearts out on every little post, celebrities have to fight a new kind of battle. And for moms who decide to post photos of their children, the trolls seem to pounce even quicker. On Tuesday, for example, people were pissed at Ciara for taking her newborn on a toboggan ride during a trip to China, and it's made the rest of the public question whether onlookers took things a bit too far.
The singer and mom of two posted a video to Instagram on Monday, showing her with her family on a toboggan ride on the Great Wall of China. Clearly, the family was having a great time, as Ciara captioned the photo, "I wish I could put into words how fun this was! Going down in the toboggan at the #GreatWallOfChina with my family." Tagging her husband, Russell Wilson, the singer described the experience as being "unreal."
Seemingly an honest, fun family activity, right? Well, not according to all the so-called parenting experts out there, who have attacked Ciara for not taking the proper precautions in going on the ride with her 3-month-old daughter, Sienna.
"It's really a shame you have "NO MOTHERLY INSTINCTS" and the "SAFETY of YOUR CHILD DOESN'T COME INTO YOUR MIND"!!" one commenter wrote, clearly making a split-second judgement on the mother's decision to let her kids ride on the toboggan with her.
But, as Glamour pointed out, the singer obviously took a lot of precautions before getting on the ride:
This isn't something they did spontaneously or illegally. It's a legitimate activity you can actually do at the Great Wall. And it looks like Ciara took all the necessary safety precautions before hitting the slide: She put baby Sienna in a carrier close to her chest, and Future Zahir sat squarely in Wilson's lap.
And, as another commenter noted, the ride was "slow, controlled, and no one was in danger." So seriously, all the haters can just calm down. First of all, the parenting decisions someone makes are their business and their business only. Unfortunately, mom-shaming is on the rise, and mothers everywhere are getting advice and judgement from people they've never even met, so this backlash wasn't exactly surprising.
Clearly, Ciara is a loving and kind mother. Planning family vacations is no easy feat, and she has managed to do just that, haters be damned.