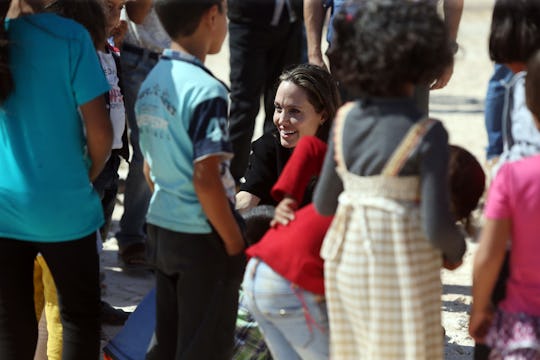 Jordan Pix/Getty Images News/Getty Images
This Casting Game Angelina Jolie Used On Cambodian Kids Is Attracting Criticism
Angelina Jolie is known for her kindness to children, so it's hard to imagine her being cruel to them. But people are upset with Angelina Jolie for the casting game she played with Cambodian children to find the lead for her new project. And sort of rightly so.
UPDATE: In a statement to HuffPost on Sunday, Jolie refuted the Vanity Fair account of her casting game, saying,
Every measure was taken to ensure the safety, comfort and well-being of the children on the film starting from the auditions through production to the present. Parents, guardians, partner NGOs whose job it is to care for children, and medical doctors were always on hand everyday, to ensure everyone had all they needed. And above all to make sure that no one was in any way hurt by participating in the recreation of such a painful part of their country's history.
I am upset that a pretend exercise in an improvisation, from an actual scene in the film, has been written about as if it was a real scenario. The suggestion that real money was taken from a child during an audition is false and upsetting. I would be outraged myself if this had happened.
The point of this film is to bring attention to the horrors children face in war, and to help fight to protect them.
EARLIER: The movie in question is called First They Killed My Father and it tells the story of a young girl named Loung Ung and the atrocities committed under Pol Pot in the '70s. (Pol Pot was a dictator who led the Khmer Rouge and oversaw the eradication of almost 25 percent of the Cambodian population by execution, work camps, or poor medical care.) It's a story that certainly should be told, but not at the expense of exploiting children.
Jolie opened up about the casting "game" in the most recent issue of Vanity Fair and it might shock you a bit. According to Jolie, producers would put money on a table, in front of children who live in extreme poverty regularly, and told them to "snatch it away", at which point a producer would pretend to chase and catch them. The children were then asked to make up a lie about why they took the money. (Romper has reached out to Jolie's lawyer for further comment on the account and is awaiting a response.)
Jolie told Vanity Fair, "Srey Moch [the girl ultimately chosen for the lead] was the only child that stared at the money for a very, very long time. When she was forced to give it back, she became overwhelmed with emotion. All these different things came flooding back." The actress and director added that when she asked Moch what the money was for, the girl said it was for a funeral for her grandfather.
People Weren't Happy With The Technique
Although the film has been lauded as a very accurate depiction of the Cambodian genocide and it's noteworthy that Jolie and the producers employed actors from the area, dangling cash in front of children potentially living in poverty and taking it away is pretty questionable, to say the least.
The casting directors could have achieved the same effect by holding an actual audition. Producers in Hollywood don't tell actors that the actor's parents died in a car crash just before an audition to see how well someone can handle family drama, right? So why tease children with money or threaten to catch them?
Jolie alleged that the process made the film more "authentic" and that there was even a therapist on set to help the cast and crew triggered by the subject matter. She said:
There wasn't a person who was working on the movie who didn't have a personal connection. They weren't coming to do a job. They were walking in the exodus for the people whom they had lost in their family, and it was out of respect for them that they were going to re-create it. It completed something for them."
She added, "When the Khmer Rouge came over the bridge, we had a few people who really dropped to their knees and wailed. They were horrified to see them come back."
Hopefully, the whole thing was more of a positive experience for the cast and crew in the end, and not something more troubling — especially for the children.