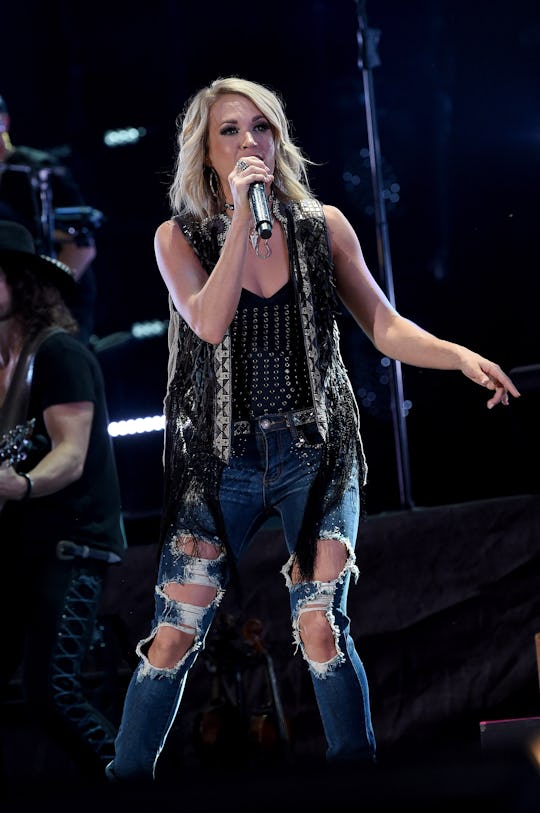 Rick Diamond/Getty Images Entertainment/Getty Images
People Think Carrie Underwood's Knee Looks Like Prince George, & It's Hilarious
In today's edition of bizarre celebrity news that serves no other purpose than to give everyone a good laugh on a Friday afternoon, the headlines following singer Carrie Underwood's recent concert at Colonial Life Arena in South Carolina had little to do with her vocal chops. No, the former American Idol winner and Grammy-winning artist instead drew attention for — wait for it — her knee's striking resemblance to a certain member of the British Royal Family. That's right... people think Carrie Underwood's knee looks like Prince George, and it's equal parts hilarious, mind-boggling, and slightly creepy.
Dressed in a beige asymmetrical dress, the 33-year-old country crooner's knees were on full display during her Sept. 24 stop on The Storyteller Tour. There must have been a break or intermission of sorts, because in between Underwood belting such hits as "Jesus, Take the Wheel," "Undo It," and "Before He Cheats," an as-yet unidentified photographer somehow had the time to zoom in on their snaps and make the discovery. And by George (pun intended!), there it was: Underwood's right knee appeared take on the shape of the 3-year-old monarch, son of Prince William, Duke of Cambridge, and Catherine, Duchess of Cambridge. (Fun fact: Prince George is third in line to the throne, currently held by Queen Elizabeth II.)
As with most things in life, you need to see this to believe it:
Though some, like Elite Daily's Anna Menta, think Underwood's knee looks like any old crying baby, others insist that the largest joint in Underwood's body is the spitting image of little Prince George.
Apparently, this whole baby-faces-appearing-in-knees thing isn't a new phenomenon. It's even got a name: KNINKLES. Celebrities like Gwyneth Paltrow, Jennifer Aniston, Elle Macpherson, and Dame Helen Mirren are afflicted with the condition. Twenty-something starlets aren't immune to the ailment, either, with an entire blog dedicated to the theory that actual demons live inside the knees of Selena Gomez. I mean, if a stranger's going to claim your knees look like something (or someone) weird, I guess it's better they look like Prince George than Lucifer. Wouldn't you agree?
However, it's safe to say the future King of England wasn't trapped inside Underwood's knee in South Carolina this week. Luckily, the little tyke was actually spotted further north with his famous parents and little sister, Princess Charlotte, on the family's eight-day tour of Canada (they arrived there Saturday, the day before Underwood's concert). The royal siblings even managed to venture outside for their first public playdate at a party for military families held at the Government House in Victoria, British Columbia, on Thursday:
I don't know about you, but I'm sure glad there was photographic evidence of Prince George's jaunt to Canada. Otherwise, Underwood might have some 'splainin to do.