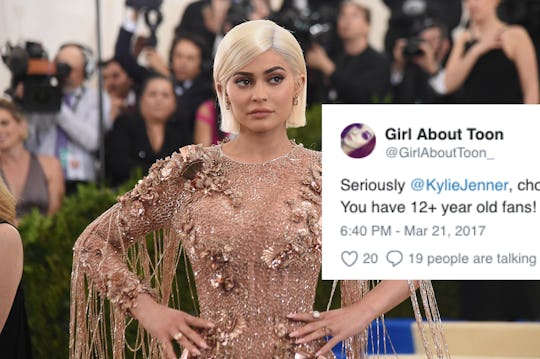 Nicholas Hunt/Getty Images Entertainment/Getty Images
People Are Seriously Pissed About The Names Of Kylie Jenner's Blush Colors
The youngest member of the Kardashian-Jenner empire has a lot on her plate right now, what with being a new mom and running a cosmetics company. She's taken her fair share of criticism for both, and now, fans are calling out the names of Kylie Jenner's blush colors, which they feel are particularly inappropriate, given her customer demographics. The blush colors came out officially last year, and much of the criticism first surfaced then, but Jenner re-promoted the line on her Instagram Story on Tuesday, according to Us Weekly.
Those with makeup experience are no doubt familiar with the sometimes nonsensical and often overtly sexual names given to different shades of product (hello, Naked Palette), but some people feel that these ones are a bridge too far. Kylie Cosmetics has not responded to Romper's request for comment.
Jenner took to Instagram to re-promote the line, according to Us Weekly, and soon after, Twitter erupted with renewed criticism of the blushes, which are labeled Hopeless Romantic, Hot and Bothered, X Rated, Virginity, and Barely Legal. The last one is described by Kylie Cosmetics as a "soft baby pink," which some critics found extra troubling. Jenner's makeup is targeted to a young audience, according to CNBC. Last year, she explained that her line isn't in competition with KKW Beauty, owned by her older sister, Kim Kardashian West. "She's like almost 20 years older than me," Jenner said. "I feel like my makeup is definitely more young, fun. And it's just different."
Given that Jenner's products are marketed to very young girls, some critics found "Virginity" and "Barely Legal" particularly problematic, as the names appear to be a wink to the fetishization and sexualization of minors.
And while older consumers might remember growing up on Wet & Wild and other inexpensive makeup brands, today's teens and tweens really are shelling out for Jenner's pricier brand — or, to be more accurate, their parents are.
Remember, these are the same girls who were injuring themselves with shot glasses a couple of years ago when they participated in the Kylie Jenner Challenge while attempting to emulate the reality star's lips, which she has admitted to cosmetically enhancing when she was a minor.
Some are defending Jenner by claiming that parents shouldn't allow young kids to wear makeup, but it's hard to argue that one isn't mature enough for some sparkly powder on their cheeks until they're old enough to vote.
Others are troubled by the supposed link between the blush names and Jenner's dating history; it's rumored that she began dating adult rapper Tyga when she was 16 or 17, although the couple denied numerous reports. They eventually confirmed their relationship once Jenner turned 18.
And yes, when you take a moment to calm down and remember that these are just blush names, the outrage might seem a bit disproportionate.
However, some consider the normalization of "barely legal" fetishes and the social construct of "virginity" to be harmful, particularly to young girls and women.
Some argue that the concept of virginity is homophobic and misogynistic, as it implies that heterosexual intercourse is the only "real" kind of sex, and it disproportionately commodifies women's sexuality, as opposed to men's. Women who still have their "v-cards" are seen as pure, untainted, and of higher moral worth than women who don't.
And of course, the term "barely legal" is little more than a cutesy way to support statutory rape fantasies, which is anything but cute.
However, we don't know if Jenner herself came up with these names, or even gave them any critical thought before signing off on them. She's just 20 years old herself, and let's not forget, she's also just a few weeks postpartum, a time in one's life that's often marked by, shall we say, a distinct lack of mental acuity.
But as always, there's an easier way to handle this. If you don't like a brand, you're always free to blast them on Twitter, or send them an email, or just buy a different color of blush.
Editor's note: This story has been updated to reflect that Jenner's blush palette debuted in March 2017, but Jenner re-promoted the line on her Instagram Story on Tuesday. The new controversy concerning the names of the blushes resulted from that re-promotion.
Check out Romper's new video series, Bearing The Motherload, where disagreeing parents from different sides of an issue sit down with a mediator and talk about how to support (and not judge) each other's parenting perspectives. New episodes air Mondays on Facebook.