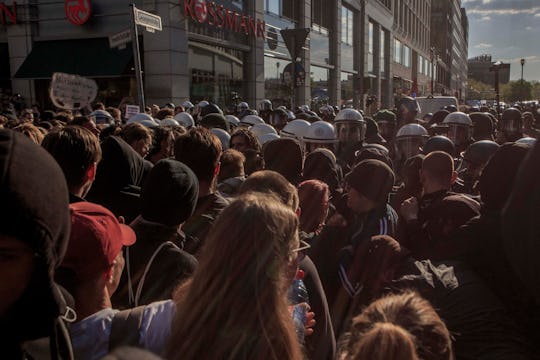 Carsten Koall/Getty Images News/Getty Images
Young Girl Confronts Neo-Nazi & Sends A Powerful Message
The world has been blessed with several powerful images recently that have already left their mark in history. There's the moving photo of a young girl in a red and pink superhero costume looking into the eyes of the "Fearless Girl" statue on Wall Street on International Women's Day. Then there's the iconic shot that emerged from a Black Lives Matter protest of Ieshia Evans, a black woman, standing calm and collected in a street as two police officers in riot gear approach to arrest her. Adding to this symbolic list is a new viral photo of a girl scout confronting a neo-Nazi at an extreme-right rally in the Czech Republic that is powerful for so many reasons.
The goosebump-inducing photo, captured by photographer Vladimír Čičmanec on May 1, shows a 16-year-old girl named Lucie wearing her khaki scout uniform, smiling calmly and holding a banner that says "We will raise your children," a scout's motto. She stands face-to-face with a neo-Nazi crowd member in the city of Brno during demonstrations on May Day, according to Mashable.
According to a post on World Organization of the Scout Movement's Facebook page, which shared the image on Tuesday, Lucie and her fellow scouts went to the rally to protest far-right extremism and convey a message that this type of ideology will not be tolerated in their home country.
"People from all walks of life, and #Scouts among them, came to the streets during an extreme right march yesterday, to express their support for values of diversity, peace and understanding," the caption on the WOSM post reads. "Creating a better world!"
As Mashable reported, the photo has already gotten 61,000 upvotes on Reddit and has gone viral on numerous other social media platforms. The WOSM post, for instance, has been shared more than 3,300 times and has amassed more than 7,500 reactions on Facebook since Tuesday.
Many have called the photo "iconic" and hailed Lucie as "brave" and a "hero" for remaining calm when an unidentified neo-Nazi sporting a shaved head and dressed in all black engaged in a heated debate with her.
"She was standing tall and she's 16 years old and she stood proud and made some profound arguments," Čičmanec, the photographer, told CNN. "I didn't hear all of their exchange but they were talking about the concept of nations and nation-states, immigration, refugees... She tried to explain to him that nationalism makes no sense because we are all people and should not be treated differently based on some arbitrary distinctions."
Not only is the obvious juxtaposition in this photo beyond moving, but the conversation that happened behind the lens highlights a worldwide debate over divisive political policies and harmful rhetoric, including things said here in the United States.
Although things seem pretty uneasy across the globe right now, photos like Lucie's serve as stark reminders of the things we need to work on. So, fearless Lucie, we thank you for standing on the front lines and reminding the world to keep fighting the good fight.