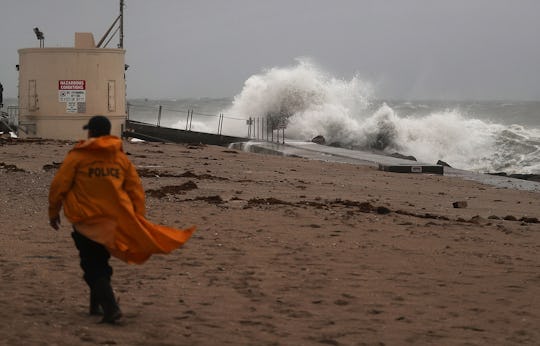 Joe Raedle/Getty Images News/Getty Images
Photos Of Hurricane Matthew Damage That Should Serve As A Warning To Everyone In Its Path
Hurricane Matthew has already established itself as a vicious, deadly storm, before it's even touched down in the United States. Officials in Haiti are now reporting that at least 264 people are dead the wake of the 140 mph winds, storm surges, and relentless rain and flooding that are the distressing hallmarks of the Category 4 storm. Videos and photos of Hurricane Matthew damage are devastating harbingers of what could befall Florida early Friday morning, at once an awful tribute to the lives already lost and dire warning to the Americans who live in evacuation zones to do everything they can to keep themselves and their families safe. It's clear that how to do that can be summed up in two words: Get out.
According to NBC News, Matthew is expected to make landfall or near-landfall between West Palm Beach and Cape Canaveral, Florida, between 3 a.m. and 8 a.m. local time Friday, and the state's governor, Rick Scott, has bluntly warned the 3.1 million people there, as well as in South Carolina and Georgia, who are under evacuation orders to heed them.
"This storm will kill you," he said at a news conference Thursday, according to ABC News. "This is life and death."
A Category 4 hurricane is the second-strongest classification there is, and Matthew is the the most powerful storm to brew in this part of the Atlantic in a decade. Still, some residents either cannot or will not leave their homes (and the danger) behind, despite their local government and authorities doing everything they can to convince them otherwise.
One Jacksonville, Florida resident, 75-year-old Alice Saulsby, told CNN that the fixed income on which she and her husband live won't allow them, financially, to leave ahead of the storm. And Daytona Beach bar owner Daniel Myara is simply choosing to stay put, and aims to keep his Cruisin Cafe (where a sign outside reads "Honk for hurricane party inside") open, too, he told the outlet.
But holdouts like Myara should consider Matthew's tragic outcome in Haiti, Cuba, the Dominican Republic while there's still time to get out of Florida. In Haiti, for example, 350,000 are now in need of assistance, BBC News reported, and a horrifying 80 percent of buildings were totally leveled in Jeremie, the main city there.
The extent of the decimation — which CNN reported affected the "poorest of the poor" — is astounding:
In the Bahamas, Matthew blew a roof cleanly off a home, according to The New York Post:
And the damage elsewhere in the country is brutal, too:
In Cuba, the hurricane knocked down dozens of homes:
It's impossible to shield Florida, and other parts of the United States where Matthew could strike, from facing some level of structural damage, and many officials fear it will be extensive. But the more accessible goal — and a much more important one — is keeping people out of harm's way. That's why it's so crucial for Floridians to see the photos of the damage Hurricane Matthew has already wrought. As painful as they are, they can work to encourage stubborn residents to save their own lives before the storm.