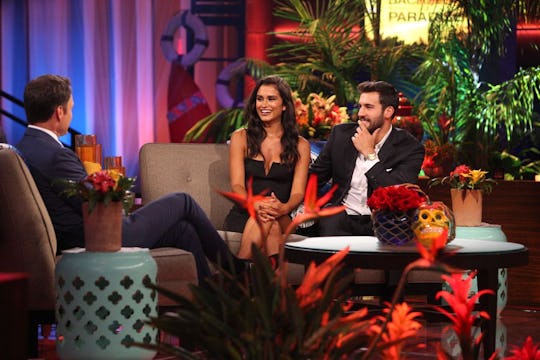 Paul Hebert/ABC
'Bachelor In Paradise' Fans Will Love Taylor's Engagement Ring
Every season, you expect at least one proposal by the end of Bachelor in Paradise, but because of the production break and the subsequent speed of adding new contestants almost daily, there weren't nearly as many couples ready for that step this season. The one couple who is more than likely the pair teased to have gotten engaged on the season finale, though, is Taylor and Derek. And not surprisingly, the photos of Taylor's engagement ring on Bachelor in Paradise prove that the proposal was worth waiting for.
Typically, the proposals come during the season finale in a setting that isn't unlike those on most seasons of The Bachelor or The Bachelorette. But for Season 4 of Bachelor in Paradise, as seen in the promos, the one and only proposal looks like it will happen on the Bachelor in Paradise finale after show. Although Derek and Taylor haven't confirmed their engagement or released any official photos to the press showing off what is no doubt a Neil Lane engagement ring, it's safe to say that they're the couple who got engaged during the taping of the Bachelor in Paradise finale after show this season.
Whether you loved them or were tired of them by the end of the season, there's no denying that Taylor and Derek were a legit couple from the start and now the photos of Taylor's engagement ring on Bachelor in Paradise prove how real the love really is between them.
According to People, jewelry designer Neil Lane didn't get to meet with Derek in person, likely because of the shorter and more fast-paced season, but he was able to give Taylor's future husband a couple of different ring choices to choose from. "I did not actually meet with Derek, so it was important for me to better understand him and his personality — and of course Taylor's as well," Lane revealed. "What I gathered was that he was more traditional yet he also liked the idea of a romantic ring."
It came down to a rose gold diamond ring or a traditional platinum with a round center ring, so clearly Derek went the more traditional route for his bride-to-be.
It wasn't long after the Aug. 30 taping of the Bachelor in Paradise afters how that media outlets started reporting on Taylor and Derek's engagement, and though the couple is probably contractually forbidden from speaking out about it in public or admitting that they're the couple who does indeed get engaged, it's pretty obvious that Derek and Taylor are gearing up for wedding bells after Bachelor in Paradise. The season began with both Derek and Taylor scoping out pretty much all of their prospective partners, but it wasn't long before they found each other and became a thing even before either had time to worry about the first rose ceremony.
Even after production was halted for almost two weeks due to allegations of sexual misconduct (though the investigation later found no evidence of wrongdoing), Derek and Taylor still had their spark. So if anyone is legitimately surprised at this point that they're probably the couple who gets engaged, then those fans are watching a totally different show.
Check out Romper's new video series, Romper's Doula Diaries: