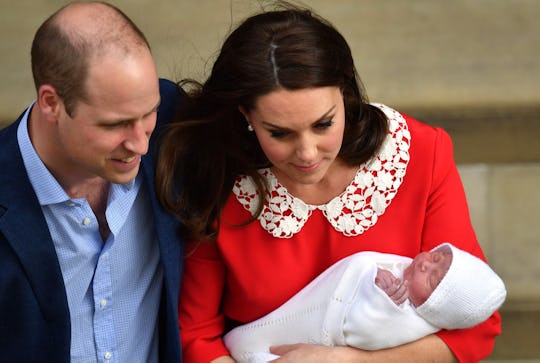 WPA Pool/Getty Images Entertainment/Getty Images
Photos Of Prince Louis Compared To Photos Of Young Prince William Are Too Cute
When Prince William and Kate Middleton, a.k.a the Duke and Duchess of Cambridge, a.k.a. the future King of England and his wife welcomed their third child, Prince Louis Arthur Charles, into this world this past week, people were pretty excited. The baby's birth means that there is a new person in line for the throne (the baby will be sixth in line) and a new prince that people get to watch grow up right in front of their eyes — just like they did with Prince William. This is why it's fun to look as photos of the royal baby compared to photos of Prince William to see what the future holds for the little prince.
When Prince Louis made his debut into the world last Monday, people didn't have to wait too long to get a glimpse at the little royal's face. Instead, they only had to wait seven hours after his birth for Middleton and Prince William to head to the steps of the hospital wing with their new baby in tow. It was there where photographers got to capture the royal baby for the first time and he was so sweet to look at.
Prince Louis looked so peaceful and asleep in his first photos with his very distinguished features. But because the baby is so new (and people haven't seen him with his eyes open), it is impossible to tell who he takes after. Luckily looking at photos of his father, Prince William, while he was a tot can help determine what Prince Louis might look like in the future.
Prince Louis
Those hands! That nose! That chin! Prince Louis' official portrait cam not come any sooner so people can determine if he looks more like his older sister, Princess Charlotte, or his older brother, Prince George.
Prince William
When Prince William was born in 1982, it's obvious that the times were very different back then. Whereas Prince Louis' birth was first announced by Kensington Palace on Twitter according to People, letting everyone, all across the world know about the royal baby's birth within a Prince William's announcement was a little more traditional.
When Princess Diana gave birth to Prince William in June of 1982, most people had to find out about it through their evening news broadcast or the next morning when they read their newspaper. And instead of seeing multiple photos of the new prince taken by photographers from all over the world (like people got to see with Prince Louis), royal watchers might have gotten to see one or two photographers published in the newspaper, or grainy video footage of Prince Charles and Princess Diana leaving the hospital with their new baby. Royal watchers definitely did not get to see Prince William's face in as high definition as they have with Prince Louis.
Because the technology was so different back then, there aren't as many baby photos of Prince William on the internet as there are of his other children. But photos of Prince William as a young boy indicates what Prince Louis could look like in the future — and the kid has some pretty great genes (I mean, have you seen his parents?).
Sometime next month, according to OK!, royal watchers will finally get to see an official portrait of Prince Louis, which will allow for people to compare him to his father even more than they already have. Although there wasn't Instagram in the 1980's, people were still able to watch Prince William grow up from a young boy to a dad of three right in front of their eyes, according to Washington Post. The fact that they'll be able to do this all over again with his newest son, Prince Louis, is pretty cool.