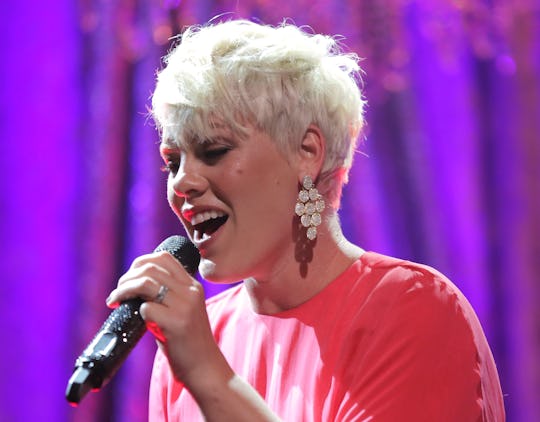 Chelsea Lauren/Getty Images Entertainment/Getty Images
Pink Stopped Everything To Comfort A Young Fan In This Touching Video
The loss of a parent often comes with overwhelming, crippling grief. While nothing can completely take that pain away, a hug can go a long way — especially when the hug is from someone really special. At her recent performance in Brisbane, Australia, Pink stopped a concert to comfort a grieving fan, and the message behind their embrace is one that everyone should hear.
Pink was performing in Brisbane on Monday when she spotted a fan in the crowd holding a sign meant to catch the singer's attention. The sign read, "My name is Leah – I'm 14 years old. I lost my beautiful Mum last month. I would LOVE a hug … Please!" according to TODAY. And, in line with her famously compassionate nature, Pink was quick to oblige.
The fan holding the sign is Leah Murphy of Townsville, Australia. According to Entertainment Tonight, Murphy recently lost her mother shortly before the Sydney stop on Pink's tour. As a huge fan of the singer, Murphy's mom was planning to go to Sydney to see her before she passed. Murphy was going to attend the show in her mother's place, but the concert was postponed due to illness. That lead her to the Brisbane stop instead.
Murphy's aunt, identified as Katrina Donkin, was the one who bought a ticket to the Brisbane show and made it her mission to get her niece a hug from Pink herself. Her efforts began with a Facebook post, according to Entertainment Tonight, that included a photo of Murphy and her mother, along with the following caption:
Ok guys Help me out. Leah and I are going to see @pink Monday 20th in Brisbane. Most of you know Leah and Harvey lost their beautiful mum Deb recently. We are planning on dancing for Deb the whole night. If you can share this post as much as you can in the hope that @pink might see it and give Leah a hug. That's all we're hoping for.
Donkin told CBS News that she "spammed" Pink, as well as other members of her team in an attempt to get "a message of love to Leah." Unfortunately, none of her attempts on social media succeeded. Her last ditch attempt was the sign at the concert. This time, she succeeded. "We couldn't believe it worked," Donkin explained to The Courier-Mail. "She hugged her so tight Leah cried. It was so beautiful and so meaningful. We think her mum sent her a hug from heaven."
Along with the hug, Pink also took the time to take some selfies and share some sweet words with Murphy, according to TODAY. Donkin told CBS News, "Pink said to her 'You're pretty — oh don't cry — it's going to be OK. Leah told Pink how much her mum loved her." And while it was just a short exchange between the two of them, Donkin said that it has made a lasting impression on Murphy. "She is so heartbroken," Donkin said. "But since the concert, she hasn't stopped smiling and singing."
After the interaction between her and Murphy, Pink made a request of the rest of her fans. "Everyone call your mom," she said, according to Entertainment Weekly. "I don't care if it's two o'clock in the morning and you're stupid drunk. Call your mom."
This story of a tender moment between two perfect strangers, one of whom is a superstar, just serves to reinforce the importance of reaching out. Reach out to your family, reach out to those around you who are grieving — both literally and figuratively. A hug can go a long way.