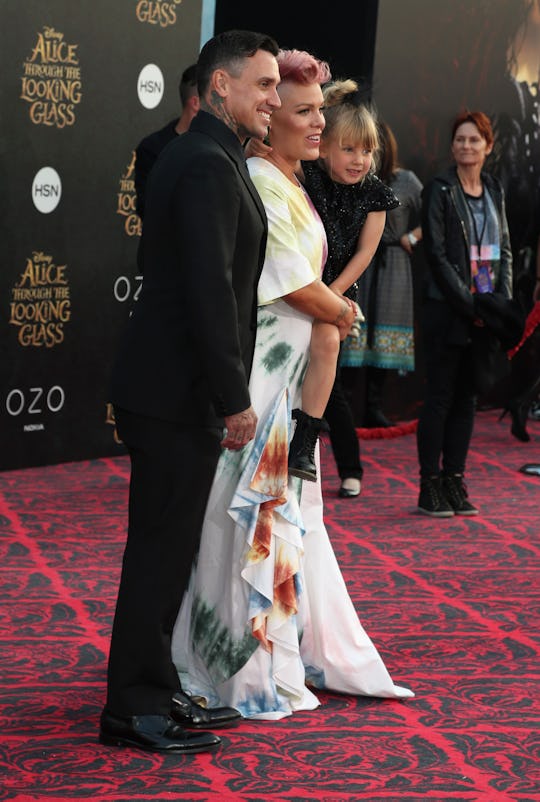 Frederick M. Brown/Getty Images Entertainment/Getty Images
Pink's Latest Breastfeeding Instagram Is So Sweet
If you were a teen in the early 2000s, chances are you remember rocking out to every song from Pink's 2001 album Missundaztood. For most of her career, the singer has been known for her edgy tracks and signature punk style, but like all women she plays multiple roles in life, and for the last few years her favorite one has been mom. Pink's Instagram about motherhood is so candid and sweet, and shows that women can and do have dynamic roles in life.
Pink, 37 (who was born Alecia Beth Moore) began writing songs and performing in clubs around Philadelphia when she was just a teen. She took the stage name Pink (styled sometimes as P!nk) and was originally picked up as part of a band named Choice when she was still a teen. When recording executives decided that she was the singer with the most potential, they let the band break up and signed Pink to LaFace Records. She released her debut album in 2000, and its first single, "There You Go," topped the Billboard Charts. In the early 2000s, she became a household name with hits from her second album — Missundaztood — like "Get The Party Started," and "Just Like A Pill," and went on to win a slew of awards.
Early in her career she met professional motocross racer Carey Hart, and the two dated on-and-off throughout the early 2000s. They eventually married in 2005 after Pink proposed during one of his races. The couple have two children together — her daughter Willow Sage was born in 2011 and her son Jameson Moon was born in December.
In her latest Instagram post, Pink shared a cozy and totally sweet picture of her breastfeeding Jameson while Willow naps nearby. She captioned the photo with a stanza from the poem "I Was Dead" by Rumi, a 13th Century Sunni Muslim poet:
I was dead — I came alive. I was tears — I became laughter. Love's wealth arrived, and I became Everlasting fortune.
Back in 2015, Pink talked to PEOPLE about how the love of her daughter — and getting to be a mother to her — has been healing:
I have lived a lot of life in a very short time, and you get hardened a little bit — you get jaded, you build up walls. And when you see this little kid, and you get to watch them through infancy to toddler to little person, it's amazing. You see how you were. When you watch this bundle full of love and light that's untarnished and untainted by heartache and any of the numerous things that change you, it's very healing. It's a miracle.
The singer is still settling in with new baby Jameson, but she'll be back on stage later this year headlining the UK's Virgin V Festival in August, according to her official website.