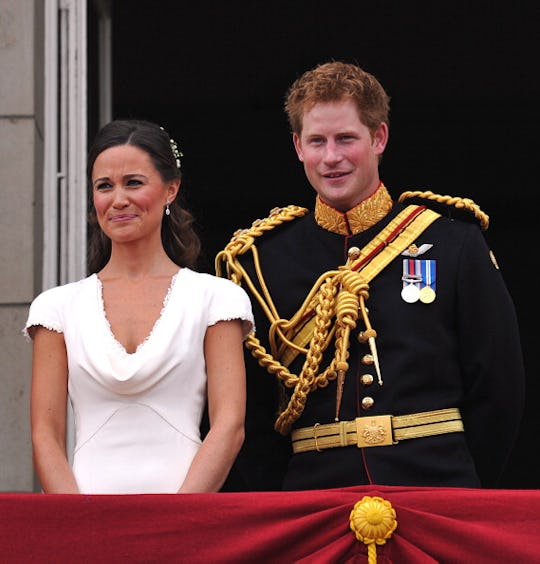 Pippa Middleton and Prince Harry Are Reportedly Dating, & The Latest Batch Of Rumors Are The Best Yet
It's the royal rumor that just won't die. According to OK! Magazine, Prince Harry and Pippa Middleton are secretly dating, and have been for months, with sparks first flying a few years ago following Will and Kate's lavish 2011 wedding. Ever since Pippa first made waves looking insanely amazing in her maid of honor dress, tabloids have seemingly been trying to will this couple into existence, using every photo of Prince Harry and Pippa standing together on the balcony at Buckingham Palace with the rest of the wedding party as proof that they could definitely, maybe, sort of be a thing.
It doesn't seem that outlandish when you think about it. While William and Kate are reserved, regal, and like to play it safe, Pippa and Harry both seem to have a bit of a fun, wild streak (remember Prince Harry's naked Vegas escapade?) Although it's not entirely clear why the latest round of Harry and Pippa rumors are causing such a stir — there doesn't seem to be any corroborated details this time around either — the claims made by the article's unnamed sources are so intriguing, that even if they aren't actually true, you still kind of want them to be.
According to OK!, Pippa and Prince Harry (Parry? Hippa?) first became involved at the royal wedding, where the newly-minted Duchess of Cambridge spotted them kissing in the bathroom. Pippa eventually began dating Nico Jackson, but after their split earlier this year, OK! insiders report that Prince Harry and Pippa picked up where they left off — although this time they're apparently taking it seriously, with one source going as far as to say they "seem very in love."
According to The Guardian, the "exclusive" story also involves Harry wooing Pippa with pasta — clearly he knows carbs are really the way to a girl's heart — and some very specific musical choices.
"Harry lit candles, made spaghetti carbonara, and stuck on music by Adele, Ellie Goulding and Bruno Mars."
(How would the source know this? How???)
The mag also claims that Prince William learned about the new couple after "[letting] himself into Harry's apartment and [finding] his brother and Pippa 'in a compromising position.'" And apparently, the Cambridges were not amused. OK! claims that neither Prince William nor Kate approve of this union. The same, however, can't be said for members of social media, who seem to be shipping a Harry and Pippa union.
But even though it's probably safe to assume this particular story isn't true, it would be pretty fun if they did turn out to be an item, especially if that means the world gets another Middleton royal wedding. I wonder if she'll also wear McQueen? #teampippaandharry
Images: WPA Pool/Getty