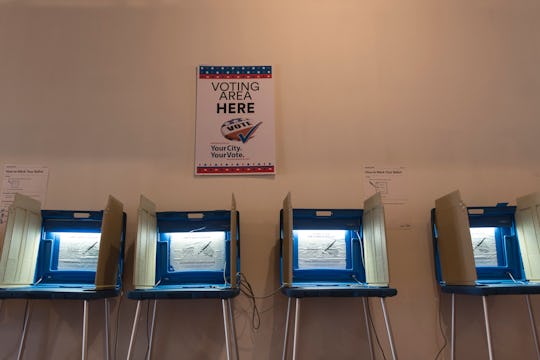 AFP/AFP/Getty Images
Poll Workers Are Preparing For Violence On Election Day, & That Is Pretty Scary
The idea of violence erupting at polling stations during a presidential election honestly seems like something that would only happen in other parts of the world, in less-developed countries with shaky democracies. But according to NPR, poll workers are preparing for violence on Election Day, as Democratic presidential nominee Hillary Clinton and Republican presidential nominee Donald Trump intensify their final campaign efforts to win enough votes to lead them to the White House after Americans cast their ballots on Nov. 8. The idea of increased security and emergency planning isn't entirely new — polling safety plans became a bigger priority after the Sept. 11 attacks, according to NPR, and have remained in place ever since. But given the extremely polarizing nature of the Trump/Clinton showdown, the threat of danger seems much more likely this election cycle than it has in a long time.
As Amber McReynolds, the director of elections for the city and county of Denver, told NPR, the focus has been on preparing poll workers "to handle any scenario in a calm and responsive way." That includes being very clear on the rules (can voters carry guns into polling stations?), learning strategies to de-escalate any potential conflict, and knowing when, and how, to call in police or emergency reinforcement. According to McReynolds, election judge training in Denver now also covers handling an active shooter.
Of course, officials are hoping that the voting procedure will occur smoothly and without incident, and have approached it mostly from the standpoint that you can't be over-prepared. But the concerns are not without merit: according to ABC News, a Republican Party office in North Carolina was firebombed Sunday, and "Nazi Republicans leave town or else," was found written in graffiti on a nearby wall. A few days earlier, two armed Donald Trump supporters loitered outside of a Clinton campaign office in Virginia for 12 hours, in a self-described protest of the Democratic candidate. Both men openly displayed handguns, according to The Huffington Post, but since Virginia is an open carry state, they were within their legal right to do so.
Both Republican and Democrat leaders denounced the violence on the GOP office, with North Carolina Gov. Pat McCrory calling it and "attack on democracy," according to TIME. Trump also condemned the violence, though in a tweet he blamed the incident on "animals representing Hillary Clinton and Dems in North Carolina," and argued that it was because he was winning in the state.
Despite Trump's claim, many have actually pointed to his own campaign rhetoric as a main factor behind the heightened threat of Election Day violence. Back in August, Trump put out a call to his supporters to sign up to "volunteer to be a Trump election observer" via a form page on his campaign website, in an effort to fight back against what he considers to be rigging and fraud of the election by Democrats. According to Politico, Trump has brought up the notion of election fraud many times, and told supporters at a Pennsylvania rally shortly before the page went live that the only way he would lose in Pennsylvania is "if cheating goes on." Most recently, Trump tweeted on Monday that "there is large scale voter fraud" already occurring, and called Republicans "naive" for denying it.
According to Fortune, Trump told supporters at a Wisconsin rally Monday night that "voter fraud is very, very common," though the consensus among experts actually appears to be that voter fraud is incredibly rare. A Loyola Law School study cited "31 known cases of impersonation fraud out of 1 billion votes cast in U.S. elections between 2000 and 2014," while Princeton University history professor Julian Zelizer explained to CNN that "it is virtually impossible in 2016 to rig an entire election. It is decentralized, it's fragmented, and there is very little evidence that this could happen."
Of course, whether it's likely (or even possible) might not be the point. With support in the Trump campaign said to be dwindling, Trump's allegations of fraud and rigging could help him soften the blow of a failed campaign. But it also means that his supporters could be more likely to feel on edge and suspicious of the election, and that tensions could rise high at the polls. And according to CNN, the effect could be long-lasting, "eroding trust in the probity of the electoral process" as a whole amongst voters.
Another possible side effect of potentially-violent voters? They could act as a deterrent from people actually casting their voters — particularly among minority voters. In an open letter to political party leaders, a coalition of activists called the rhetoric "voter intimidation," and argued, according to The Guardian, that,
The unsubstantiated predictions of voter fraud and rigged elections, coupled with the demagogic rhetoric of the last few months towards minority communities, constitute an unacceptable targeting of those members of our society most vulnerable to disenfranchisement.
With so much at stake in the upcoming election, voter turnout is going to be essential. But just as important will be voter safety, and the protection of the democratic process. While the entire country will surely be on edge awaiting the election results, hopefully intimidation and violence won't end up being a side effect.