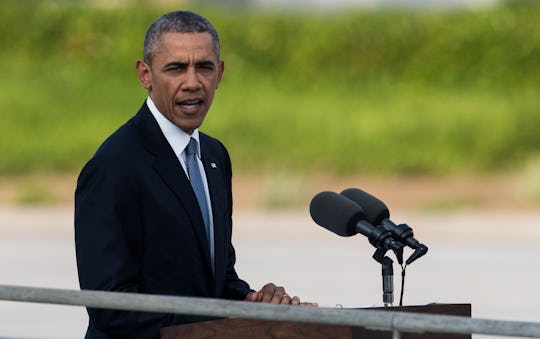 JOHANNES EISELE/AFP/Getty Images
President Obama's Muhammad Ali Statement Echoes The Greatness The Athlete Had
The world is mourning the loss of famed boxer Muhammad Ali after his passing on Friday, June 3. Celebrities, fans, and even President Obama have spoken out about just how big of a void Ali's death has created. But, in Obama's statement about Muhammad Ali's death, there's actually something much more profound to notice than the sadness that comes with someone's passing — and that's the greatness that Muhammad Ali brought to this world, and just how much influence he had, and will forever have, moving forward.
In the statement from both President Barack Obama and First Lady Michelle Obama, both the greatness and the flaws that the athlete was known for. President Obama begins his statement saying "Muhammad Ali was The Greatest. Period." continuing on that Ali would tell you that, if you ever asked him. President Obama points out that this was one of the things that separated Ali from the rest — his openness in telling people just how great he knew he was.
President Obama also shares that he keeps a pair of Ali's gloves in his private study, along with "that iconic photograph of him — the young champ, just 22 years old, roaring like a lion over a fallen Sonny Liston."
The President notes the struggles Ali had to face later in life, battling his own demons and illnesses along the way: "We watched a hero light a torch, and fight the greatest fight of all on the world stage once again; a battle against the disease that ravaged his body, but couldn't take the spark from his eyes."
President Obama points put the contradictions in Ali's life, sharing "For all his magic in the ring, he could be careless with his words, and full of contradictions as his faith evolved." He notes that it was his spirit that "ultimately won him more fans than foes," which proves that while Ali might have been complicated at times, he was a one-of-a-kind legend who did not know the word "impossible."