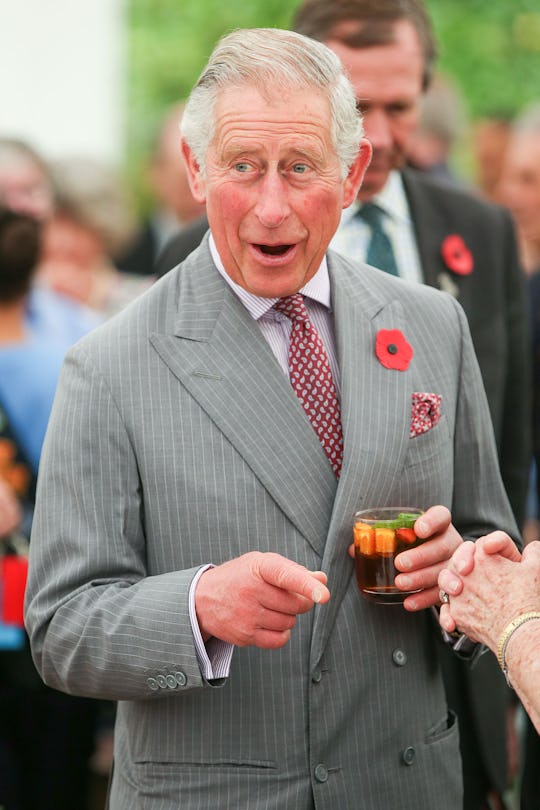 Hagen Hopkins/Getty Images Entertainment/Getty Images
Prince Charles Reveals He's Like All Tired Grandpas With This Adorable Comment
The Prince of Wales just celebrated his 70th birthday on Nov. 14, a milestone occasion he enjoyed alongside his energetic gaggle of grandkids. As one might imagine, it's not easy chasing around little kids when you're older, especially when you're strapped with the busy schedule of a royal. So, it's completely fair that Prince Charles feels like all grandparents do after a day spent with his energetic grandchildren.
Prince Charles has three biological grandkids (Prince George, 5, Princess Charlotte, 3, and Prince Louis, 7 months), a number that will increase by one come spring 2019 when Prince Harry and Meghan Markle welcome their bundle of joy.
But what people sometimes forget is that the Prince of Wales also enjoys a relationship with the grandkids of his wife, Camilla Parker Bowles, Duchess of Cornwall. Bowles is grandma to Eliza, twins Gus and Louis, Lola, and Freddy. Although the exact ages of Bowles' grandkids aren't known, they're reportedly all under the age of 12.
The Duchess of Cornwall said about Prince Charles' relationship with the group, according to Hello! Magazine, "Sometimes when we are with my husband in Scotland, he reads them Harry Potter. And he does all the voices, because he is a brilliant mimic. I'm not very good. I try to do the voices, but acting isn't my forte," she reportedly said. "But he sits down and they all sit with him. I always think they are going to be wriggling around in bed, but they sit spellbound. He's extremely good with children. They love it."
Given the large number of littles in the Prince of Wales' life, it's reasonable he gets worn down from all of the activity on occasion.
Prince Charles expressed this exact sentiment in a conversation with Amelia Kerr, a 33-year-old mom he met while visiting the Dorchester Community Church in Dorchester, England, according to Hello! magazine.
When the Prince of Wales met Kerr's 4-week-old son, Oliver, he said, according to the Mirror: "My grandchildren wear me out, I don't know how you do it."
I don't want to speak for all grandparents out there, but I bet a lot of grandpas and grandmas can relate to this feeling. I'm not sure how much of that phenomenon even has to do with age, to be honest, because I've found that kids often treat their grandparents like celebrities if they don't get to see them as often.
Speaking of regular visits, Prince William wants his dad to spend more time with Princess Charlotte, Prince George, and Prince Louis.
"When he's there, he's brilliant," he said, according to Us Weekly. "But we need him there as much as possible."
He added:
It's a perfect time to consolidate a little bit. As most families would do, you are worried about having them around and make sure their health's OK. He's the fittest man I know, but equally I want him to be fit until he's 95. Having more time with him at home would be lovely and being able to you know, play around with the grandchildren.
I bet there's a good chance Prince Charles will spend more time with his beloved grandkids when his hectic schedule winds down. It's clear he adores his grandbabies, after all.
Season 2 of Doula Diaries shares the stories of fearless doulas helping their clients take control of their births and make tough choices that feel right to them. Watch the first episode of the new season Monday, November 26th.