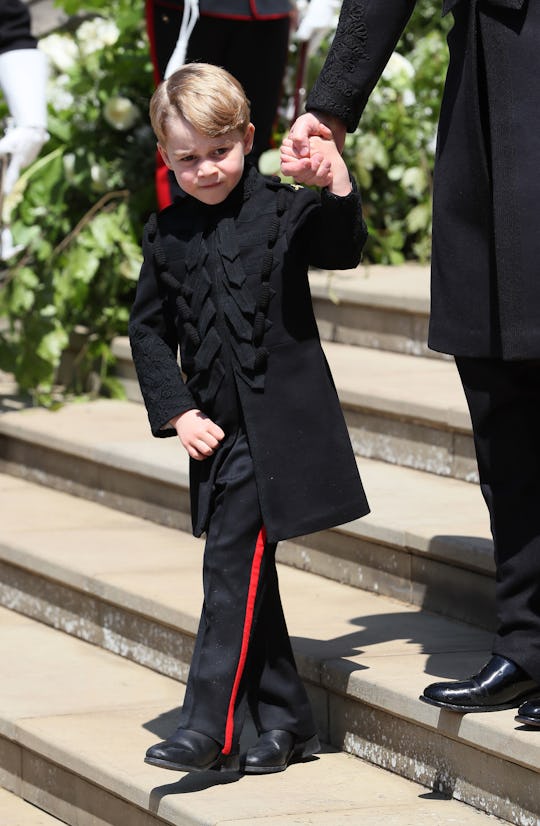 WPA Pool/Getty Images Entertainment/Getty Images
Could Prince George Be Any Cuter At Prince Harry & Meghan Markle's Wedding?
Happy royal wedding day! While many people are not-so-patiently awaiting their first look at Meghan Markle's wedding dress, most of us could not wait to see photos of Prince George at the royal wedding. It was confirmed that Prince George, the future King of England, would participate in his uncle's wedding on Wednesday, May 16. Kensington Palace shared the exciting news on Twitter, revealing that not only would Prince George be a page boy, but that his sister, Princess Charlotte, would be a bridesmaids.
As expected, HRH Prince George was totally the star of the show! Not only did he look absolutely adorable in his fancy royal wedding outfit, but he proved to be ever the gentlemen to make sure his uncle, Prince Harry, and his new aunt, Meghan Markle, had the perfect wedding day. Prince George's arrival, along with his sister, Princess Charlotte, was just one of the many highlights of the royal wedding. Both of the little royals are lucky enough to be adored by people all over the world, making them the most recognizable toddlers on the face of planet earth.
The little prince arrived dressed in all black, just like his fellow page boys. His bright blonde hair made him instantly recognizable to viewers all over the world, especially when he arrived side-by-side with his mom, Duchess Kate Middleton, outside of St George Chapel in Windsor. Prince George held hands with his friend, Jasper Dyer, as they entered the church behind the stunning bride, Meghan Markle.
As mentioned, Prince George was not the one and only page boy in Prince Harry and Meghan Markle's wedding. As per Kensington Palace's announcement on Twitter, the little prince was joined by Jasper Dyer, Brian Mulroney, and John Mulroney. Jasper is the six-year-old godson of Prince Harry, the son of his former equerry, Mark Dyer, and his wife, Amanda Dyer. Brian and John are seven-year-old twins and the children of Markle's best friend, Jessica Mulroney and her husband, Benedict. The twin boys carried Meghan's train into the chuch and down the aisle; a heartwarming moment for everyone watching! As predicted, Prince Harry and Meghan kept their wedding party close to the family.
And don't forget, this isn't the first time that HRH Prince George has had the privilege of being a page boy. In May 2017, Prince George was the cutest little page boy in Pippa Middleton's wedding to James Matthews. He was just three years old at the time, but that didn't stop him from totally nailing the job.
For that wedding, the bright blonde future king looked quite dapper in his white button down, short pants, along with perfectly white tights and dress shoes. Prince George also carried a little basket, just like all of the other page boys, while his sister, Princess Charlotte, looked beautiful in a white flower crown. Then again it's not too much of a shock that these two siblings could be so adorable!
Hopefully Prince George was better behaved for Prince Harry and Meghan Markle's wedding than he was his aunt Pippa's. It was widely reported that Prince George wasn't exactly acting like a royal for Pippa's nuptials, especially after pictures appeared to show his mom, Kate Middleton, scolding him, as reported by People.
One photo in particular shows Duchess Kate looking like she's scolding the little prince, especially as she leans over and points directly at him with a stern look on her face. According to People's report, Prince George was seen pouting and sobbing outside after the wedding ceremony ended. That's when Duchess Kate reportedly stepped in, which led to the little prince perking up for the remainder of his family's big day. Thatta boy, George!