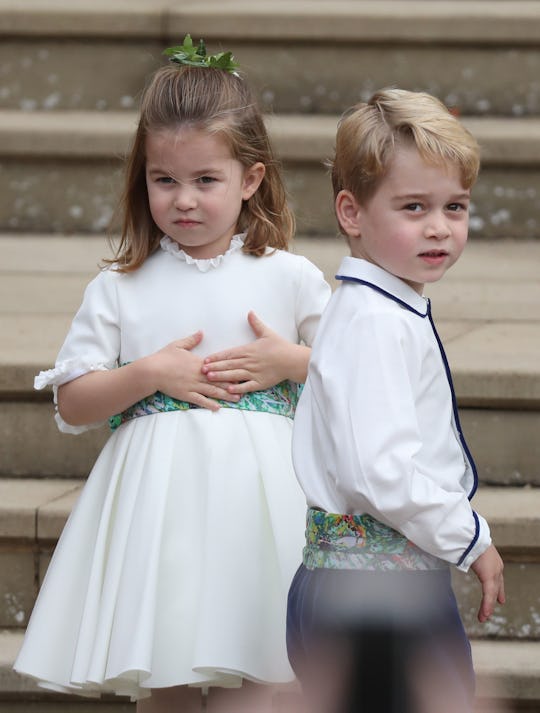 WPA Pool/Getty Images Entertainment/Getty Images
Prince George & Princess Charlotte's Nickname For Their Dad Is Totally Adorable
First came news that her Her Royal Highness herself, Queen Elizabeth II, goes by the nickname "Gan Gan" for grandma. Then came the news that Prince Charles is known as "Grandpa Wales." Now, fans finally know Prince George and Princess Charlotte's nickname for Prince William... and it's as adorably simple as a kid can get.
After a visit to Leicester City, England, to pay tribute to a soccer team owner and acquaintance of Prince William's who died in a helicopter crash in October, Kate Middleton revealed to a fan that she had noticed the moniker when little George asked William about his plans for the day.
"Kate said that William was playing football with the children last night and one of them said, I think it was George, 'Are you playing football tomorrow, Pops?'" fan Fiona Sturgess recounted as per People, in reference to the fact that the ceremony that brought Middleton and Prince William to town was a dedication for Vichai Srivaddhanaprabha, chairman of the city's beloved Leicester City Football Club. (Soccer is known as "football" across the pond, in case you had forgotten.)
Srivaddhanaprabha and several others perished when their helicopter crashed just outside the city's King Power Stadium on Oct. 27, according to Hello! The magazine noted that Prince William knew Srivaddhanaprabha and thus made remarks at today's event.
Middleton disclosed the affectation as volunteers handled flowers and other tributes to the victims, as People noted. When asked about how the kids were doing — remember, Prince George, 5, and Princess Charlotte, 3, have new sibling Prince Louis, 7 months, to help take care of, the magazine added — Kate told one fan, "They're doing well, thank you."
And "Pops," that is William, wants his kids to be into sports, according to the Daily Mail. The paper reported that after tennis star Novak Djokovic won this year's Wimbledon, the champ asked William about the kids, to which the heir to the throne replied he was "trying to get a tennis racket in their hand — and a football!"
Good for the royals for wanting their kids to be outside and active. As for Windsor family nicknames, People added that a 2016 documentary, the ITV Channel's The Queen at Ninety, was where it was revealed that a young George called his grandma, "Gan Gan," a name that I hope stuck for Princess Charlotte and soon, with Prince Louis.
Southern Living magazine weighed in on the royal nickname issue, offering such rarely-heard tidbits as the fact that the Queen is called "Lillibet" by close family and that Princess Diana called Harry "Wombat" when he was little.
Watching The Crown, I've gotten even more interested in this fascinating ruling family.
It's worth noting that the Windsors seem to have evolved some, as far as becoming more publicly loving and connected with their clan with each the newer generation of royals, as the series details and, I think, as the press coverage of the occupants of Kensington and Buckingham Palaces shows.
These days, they really do seem like one big, fairly normal, happy family.
This first-time mom wants to have a home birth, but is she ready? Watch how a doula supports a military mom who's determined to have a home birth in Episode One of Romper's Doula Diaries, Season Two, below. Visit Bustle Digital Group's YouTube page for the next three episodes, launching every Monday starting November 26.