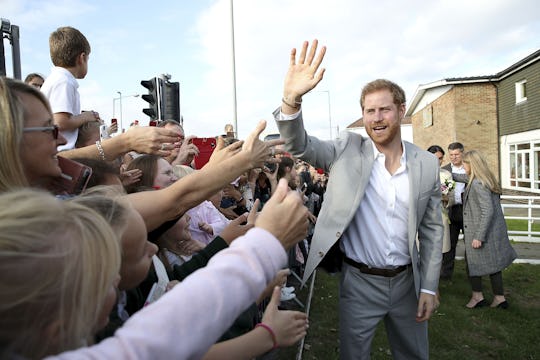 Chris Jackson/Getty Images Entertainment/Getty Images
Prince Harry High-Fiving A Bunch Of Kids Is The Only Thing You Need To See Today
Prince Harry seems like one of the coolest, most down-to-earth members of the royal family. He has such a youthful spirit to him, which other people (especially those younger than him) can definitely pick up on. Just by looking footage of Prince Harry high-fiving a bunch of kids while out during a royal appearance on Wednesday, you can tell that his personality goes over very well with people of all ages.
Prince Harry and wife, Meghan Markle, aka the Duke and Duchess of Sussex, made their first royal appearance of October together on Wednesday. The couple traveled to Sussex, where they were greeted by crowds of people, got to see a rare copy of the Declaration of Independence, visited a technology park, and ended the day visiting a charity for victims of sexual abuse, according to Harper's Bazaar.
It was a busy day for the couple filled with serious business — but Prince Harry got a break from it all when he made a stop in Brighton and was greeted by a group of school children who all wanted high fives, according to the Evening Standard. And he delivered.
In a video, taken from his stop in Brighton, according to the Evening Standard, Prince Harry can be seen shaking hands and giving high fives to a huge group of school children — and his speed is impressive.
Just look at how happy those little kids are when his hand finally reaches them. The best thing is, you can tell that Prince Harry was enjoying giving the high fives just as much as the kids were loving receiving them. It's seriously adorable. And in case anyone had any doubts, it sure seems to prove that Prince Harry is pretty amazing with kids.
Even Prince Harry himself is confident in his ability to interact with kids. Prince Harry said, during a 2016 appearance on Good Morning America, according to Hello!:
I've got a kid inside of me. I want to keep that. I adore kids. I enjoy everything that they bring to the party. They just say what they think.
His interaction with these kids on Wednesday definitely emphasizes that point. He was definitely able to match their enthusiasm, bringing the exact same energy to the party.
Of course, after anyone sees Prince Harry interact with any group of children, they immediately start to wonder if Prince Harry and Markle want to become parents in the near future.
The answer to that question is yes, they do want to become parents — but their timeline to becoming parents isn't exactly clear, nor should it be concerning to outsiders. However, during their first televised interview together as a couple, right after their engagement was announced, Prince Harry and Markle confirmed that they definitely wanted kids in the "near future" but, that they were taking things "one step at a time," according to Marie Claire. However, sources told Us Weekly earlier this summer that the couple wants "to start a family right away" and that "having children is a huge priority" for them.
But they shouldn't have to feel pressured to do this and royal watchers need to respect their timeline. They're still clearly enjoying their "honeymoon phase" (as evidenced by their PDA on Wednesday, according to Cosmopolitan) since their wedding, which was five months ago in May.
Although Prince Harry might not currently have any children of his own, he has nieces and nephews to give attention to and practice high fives with. And based on his interactions with kids on Wednesday, it not only shows that he is a great uncle, but will make one amazing dad whenever that happens.