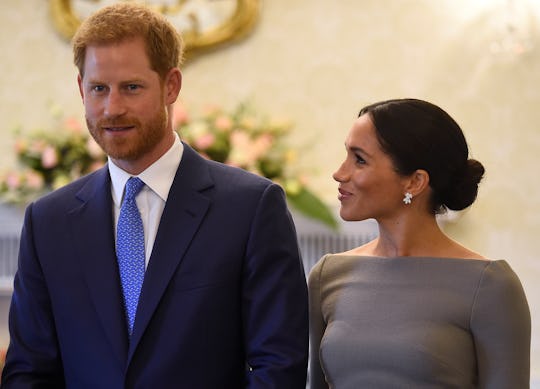 WPA Pool/Getty Images News/Getty Images
Here's What Prince Harry Has To Say About Having A *Big* Family With Meghan Markle
Even before Prince Harry and Meghan Markle got married this past May, people couldn't stop wondering about when they would to start a family. Now that they're married, the curiosity has certainly intensified. For example, during an official royal appearance in Dublin, Ireland, on Wednesday, a fan asked the red-headed royal when he and the Duchess of Sussex were going to start a family, and in turn, Prince Harry may have revealed how many kids he wants, according to People. And he made it pretty clear that anything over this number is too many for him.
As Prince Harry greeted fans in Dublin on Wednesday morning, according to People, one 43-year-old mom of five had one very important question to ask the prince: When will he be starting a family? "My husband also has red hair and he gave me five children — when are you and Meghan going to get going?" the woman asked Prince Harry, according to People.
Prince Harry reportedly had a great reply, but refused to give too much away. The woman who asked Prince Harry the question told People that Prince Harry kept a sense of humor about the question. "He laughed and said 'five children? — too many.'"
So, five children might sound like too many children to Prince Harry, but that isn't to say that any number less than five — like three children, like his brother, Prince William has, would be more ideal.
What is clear, though, is that Prince Harry has definitely been vocal about wanting kids, especially with Markle. During their first interview as a couple, right after their engagement, Prince Harry told the BBC that he and Markle wanted to have kids somewhere down the line. In the interview, Prince Harry said that "of course" he wants to have kids, according to TIME, and that he and Markle just wanted to take things "one step at a time," adding, "hopefully we will start a family in the near future." But in that interview, Prince Harry didn't state how many kids he wanted — just that he and Markle want to have their own family in the near future.
So, based on his response on Wednesday, it's fair to assume that Prince Harry could want anywhere from one to four kids. But, until Prince Harry comes out and says how many kids he wants or until he and Markle start a family, royal watchers can't be too sure about his ideal family size.
Although Prince Harry might be shy when it comes to stating how many kids he wants, he does reportedly wants to get started on having a family like, right away. Royal expert and author of Harry: Life, Loss, and Love, Katie Nicholl, told Entertainment Tonight in March that Prince Harry was "keen" on starting a family "pretty soon" after his wedding in May. "He's made no secret about wanting children," Nicholl said, according to Entertainment Tonight.
But Prince Harry wasn't always this way. In 2016, two years before he married Markle, Prince Harry told People that he would go back and forth about having kids. Prince Harry said, according to People:
There have been moments through life, especially when we do a tour abroad, when I think, "I'd love to have kids now."...And then there are other times when I bury my head in the sand going "All right, don't need kids!" There's no rush.
But two years later and a marriage to a remarkable woman under his belt, Prince Harry could definitely be singing a different tune and may be more than ready to start having kids — but maybe not five of them.