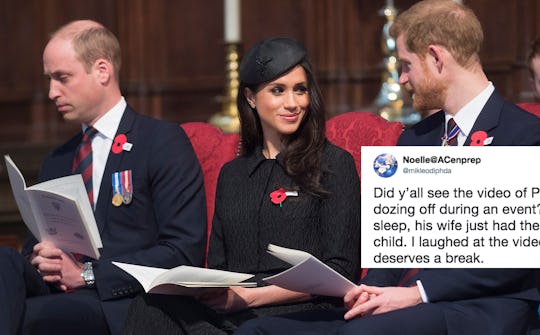 WPA Pool/Getty Images Entertainment/Getty Images
Prince William Struggling To Stay Awake At An Event After Baby #3's Birth Is SO Relatable — VIDEO
Prince William is fooling exactly nobody. The father of three little royals, the most recent of whom was just born on Monday, recently told members of the press that his new baby boy was sleeping "reasonably well." I guess everyone defines reasonably well differently; for some it's getting to sleep soundly for eight straight hours in a row. I suspect Prince William's definition might be slightly different on account of he can't seem to keep his eyes open. As a new video showed, Prince William nodded off at his first event after welcoming his newest baby and, in that moment, he is pretty much every new parent.
Prince William and his wife of seven years, Kate Middleton, welcomed their third baby on Monday morning at the Lindo Wing of St. Mary's Hospital in London, England. They haven't announced the name of their little boy as of yet, although there have been plenty of guesses, with Albert, Arthur, and James coming out as the most popular bets at British bookies. But here is what we might know about the little tyke; it's possible that he's keeping his dad from sleeping.
Kate Middleton and the new baby left the hospital a mere seven hours after she gave birth, but that didn't relieve Prince William of his royal duties. And while he tends to be charming and engaging at events (from what I can gauge from the many pictures I've studied, at any rate), when he attended an Anzac Day of Service at Westminster Abbey alongside his brother, Prince Harry, and his future sister-in-law, Meghan Markle, as TIME reported ... well, he just couldn't stay awake.
It's difficult to unpack all of the things I love about watching Prince William trying to battle falling asleep; first of all, he reminds me of one of those sleepy puppy videos that are so terribly addictive.
Second of all, Markle doesn't even glance his way. She keeps her gaze laser focused on the speaker. And if that doesn't tell you this girl is ready to kill it at her royal duties, I just don't know what will.
Of course, Twitter absolutely loved getting a little glimpse of Prince William being the most relatable royal dad of all time. Trying to hold all the pieces together, trying to go to work and be present, but nodding off a little despite his best intentions. Plenty of parents have been stretched too thin themselves, much like the prince. And they were beyond sympathetic.
Honestly, if someone were to take a popularity poll right now, I bet he'd beat all the other royals hands down. Even those people on the internet who mocked him for being tired, assuming that he and his wife would just have the nannies take over. I bet even they love the prince who slept, deep, deep down.
And I'm sure he would trade all of that popularity for a few hours sleep.
Prince William, who was already a father to 4-year-old Prince George and 2-year-old Princess Charlotte before welcoming his new baby boy, did manage to rally quickly. He attended a charity at the Greenhouse Center in London alongside his brother on Thursday and appeared to have recovered his energy. Maybe he was just excited to share the news that he is, indeed, going to act as best man at Prince Harry's wedding to Markle on May 19, as People reported. Although Prince Harry did tell reporters that Prince William had "known for months" that he would be best man, so perhaps not.
Maybe it's simply a case of adapting to your new normal. After all, those three kids of his are going to be sticking around for some time; best get used to it.
Check out Romper's new video series, Bearing The Motherload, where disagreeing parents from different sides of an issue sit down with a mediator and talk about how to support (and not judge) each other's parenting perspectives. New episodes air Mondays on Facebook.