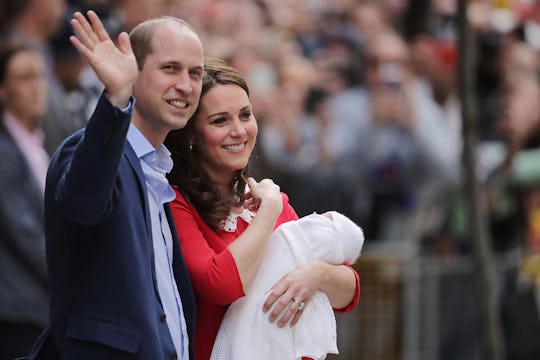 Dan Kitwood/Getty Images Entertainment/Getty Images
Every Exhausted Parent Will Get Why Prince William Is Grateful For A Night Away From His Kids
Calling Prince William busy would be an understatement. Between making official royal appearances and tackling dad duties with his three young children, all under the age of 5, he gets a lot of stuff done in the day. But this also means Prince William doesn't get enough sleep — he's said it himself. Seriously, Prince William summed up every exhausted parent's struggle when he said some very relatable words during his latest royal appearance.
After Prince William and his wife, Kate Middleton, the Duchess of Cambridge, welcomed their third child — son, Prince Louis — this past April, their lives changed. The couple, who were already parents to 5-year-old Prince George and 3-year-old Princess Charlotte were surely getting used to having little kids run their lives. But throwing a crying baby who needs constant attention into the mix must have disrupted the peace just a little. And during an official royal appearance on Wednesday in Africa, Prince William pretty much admitted just that, according to People.
During the outing, Prince William appeared solo — because his wife is still on maternity leave and his kids are still in school (of course). But Prince William said that he didn't seem to mind that he was alone, because he admitted it would be one of his first nights of sleeping in peace.
"...I'm looking forward to a few good, uninterrupted sleeps this week, away from my wonderful children," Prince William joked during a speech in Namibia, according to People.
Hey, at least he's honest — and excellent at making dad jokes.
Of course, Prince William was definitely joking when he told the crowd that he was thankful to have a "few good" sleeps. But at the same time, a lot of parents can agree with that sentiment. It's likely that Prince Louis has kept Prince William awake throughout the night once or twice throughout the past five months — it's just something that babies do.
Not to mention, little kids have a hard time sleeping in their own beds from time to time, according to Parents. This is because young children have trouble developing their own sleep patterns, according to Parenting.
Just because Prince William is a prince doesn't mean that he doesn't go through the same things that average parents do. He looks forward to some time alone away from his kids, just like any other parent, especially if that means taking some time to catch up on sleep.
Of course, Prince William could also be looking forward to his sleep because of his busy schedule. Prince William made 117 official royal engagements at home and 54 royal engagements abroad last year, according to Town & Country. But in addition to this, Prince William has also stated that being a dad is a full-time job, according to the Express. During a 2016 interview with the BBC, Prince William explained this even further, according to ABC News:
I'm concentrating very much on my role as a father. I'm a new father and I take my duties and my responsibilities to my family very seriously and I want to bring my children up as good people with the idea of service and duty to others as very important.
Thus, the lack of sleep.
No one is arguing with the fact that Prince William has had one very hectic year. In addition to the royal appearances, Prince William celebrated his seventh wedding anniversary in April, welcomed his third child a few days before that, and appeared in his brother's wedding a month later — and that's just what the public saw.
Needless to say, Prince William deserves all of the uninterrupted sleep that he can get. And hopefully Duchess Kate will get some soon enough.