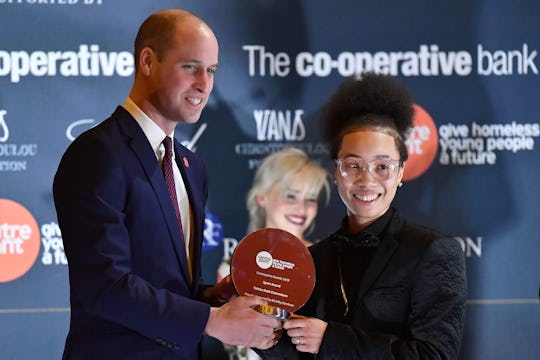 WPA Pool/Getty Images Entertainment/Getty Images
Prince William's Message About Body Positivity Is So Important For Girls
I am very pleased to tell you that there are many, many female celebrities who have spoken out publicly about unrealistic body images in the media. Women who want young girls to realize that they're seeing a manipulated version of the female body in fashion magazines, on social media sharing sites like Instagram... basically everywhere they look. Actresses like Amy Schumer, Mindy Kaling, Jennifer Lawrence, Kate Winslet; the list is satisfyingly long and getting longer all the time. But the list of men? Not so much. Which is why Prince William's message about body positivity to girls is so important. Because we need girls to hear people of influence telling them again and again that it's okay to love themselves, just as they are. Regardless of what they see in the media.
Prince William stopped in to the Ark Burlington Danes Academy in London recently to discuss mental health awareness, an issue that he has made a serious priority over the past few years along with his brother Harry and his wife, Kate Middleton, the Duchess of Cambridge. While speaking with the students, the prince was especially focused on the epidemic of cyber bullying and its long term effect on mental health, Prince William got real with a pair of female students.
Today reported that Prince William told the two female students, Samara Hackett-Valton and Sophie Crowder, both 15:
I worry for you girls. The touched-up pictures are not real. Don't try to recreate them or think that's what you've got to aim for. There's a lot of fakeness online so don't worry about that.
He went on to point out that dealing with issues like peer pressure is so much harder in the digital age, and sympathized with the challenges:
That's a lot. You must be aware of that, it's a lot of pressure. There's so many things going on. You're going to be bamboozled.
Prince William, who is father to 4-year-old son George and 2-year-old daughter Charlotte, absolutely has a point. The unrealistic images young girls are constantly exposed to on a daily basis can be incredibly damaging to an already fragile teen self esteem. A 2014 study found that a whopping 53 percent of 13-year-old girls are unhappy with their bodies; this number grows to 78 percent by the time the girls reach 17. And while parents and family members' body image ideals can shoulder some of the blame for poor self esteem and body image, the real influence comes from outside the family. From peers, and from social media.
It's more important than ever for trustworthy adult voices, particularly influential people like celebrities, to offer girls some advice about how to deal with these pressures. And Prince William had some excellent advice to offer:
Don't spend all day online. Seriously, don't. For your mental health, get outside, come away from the screen. By all means be on a screen but don't be on it all day because it will only bring you into another world. It's important that you balance the time.
Sadly, the Prince knows all too well the terrible effect poor body image can have, particularly on women. His own mother, Princess Diana, struggled with poor self esteem for years; she even suffered through an eating disorder. Prince William is doing amazing work to call attention to mental health issues in his mother's honor. And now, it seems he's also prepared to be something of a pioneer; a male celebrity speaking out about body positivity for young girls. This is a trend that needs to catch on quickly. Because girls need as many encouraging voices as they can; otherwise, how would they combat those other voices? The ones telling them they're not "enough," whether it's thin enough, pretty enough... whatever it might be.
It needs to end here.