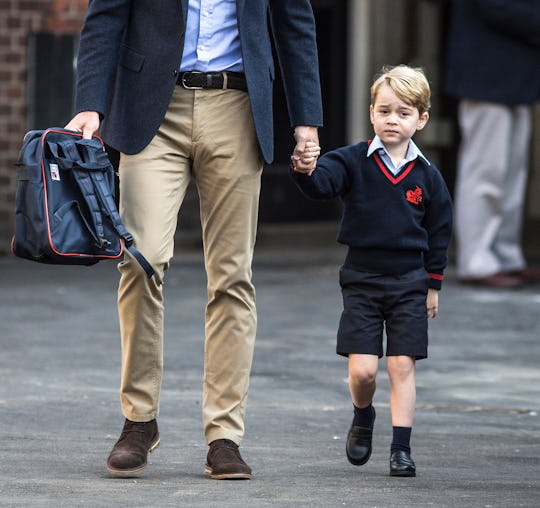 WPA Pool/Getty Images Entertainment/Getty Images
These Sweet Moments Between Prince William & His Kids Will Leave You Royally Obsessed
The royal family is endlessly fascinating to me — and this spring, there's even more reason to be mesmerized. Prince Harry and Meghan Markle's upcoming nuptials practically have the world abuzz with excitement. Not to mention, fans of the royal family are eagerly anticipating the birth of Prince William and Kate Middleton's third child. Truthfully, it's so easy to get swept up in the details of this monumental royal events. However, behind the fancy titles are people who do normal things just like the rest of us. Sure, he may be the heir to the royal throne and all, but Prince William also happens to be a husband and a father to two adorable children. So let's take a look back at some of Prince William's sweetest dad moments with Prince George and Princess Charlotte — just to tide you over until baby number three arrives.
Prince William became a father on July 22, 2012, when Kate Middleton gave birth to their first child — a son they named George Alexander Louis, Today reported. (And who will one day be king!) Then on May 2, 2015, the royals welcomed baby number two; this time around, Middleton delivered a baby girl. They named her Charlotte Elizabeth Diana — after her great-grandmother, Queen Elizabeth II, and her late grandmother, Princess Diana, USA Today reported. And in the next month or so, Prince William and Kate Middleton will be welcoming baby number three, Time reported. Now that you're up to speed, let's take a look of Prince Williams sweetest dad moments so far. Like that time when ...
When He Introduced Baby George To The World
On the day Prince William became a father, you could just tell he was going to totally rock at it. "He's got a good pair of lungs on him, that's for sure," William told the crowd that had gathered outside of the hospital where George was born. "I'll remind him of his tardiness when he's a bit older because I know how long you've all been set out here." He added:
He's got her looks, thankfully.
LOL. He literally became a father mere hours ago at that point, and yet the dad jokes were rampant.
When He Walked Prince George To His First Day Of School
As Us Weekly reported, Prince William escorted George to his first day at Thomas's Battersea in London on Sept. 7. Kate Middleton was unable to be there for this particular milestone because she was suffering from hyperemesis gravidarum. Still, dad William couldn't have had a sweeter dad moment, in my opinion. Awww.
When He Showed Prince George A Butterfly
As the Daily Mail reported, the above photo was taken on George's first birthday. The family of three was visiting the Natural History Museum in London when this precious shot of Prince William gently showing his son a butterfly was taken. Honestly, I'm surprised the insect survived the encounter. But isn't this moment just the sweetest?
When He Introduced His Baby Girl To The World
As People reported, Kate Middleton and Prince William briefly introduced their daughter, Charlotte, to the world while on the steps of St. Mary's Hospital — just 10 hours after her birth. "We're very happy, very happy," William said, as the beaming second-time parents emerged from the hospital. Although they didn't give any other comments at the time, their faces said it all. And it was clear that Prince William was over the moon for his baby girl.
When He Accepted Gifts For Baby Charlotte
In June 2015, Prince William seemed tickled to receive a gift for his new baby girl. After he competed in the Audi Polo Challenge, the director of Audi UK gave Prince William a pair of tiny, pink rain boots for Princess Charlotte, Good Housekeeping reported. (Just look at his face! Tiny, adorable clothing has the same effect on me, Prince William.) A few weeks earlier, Prince William had also received a football shirt for baby Charlotte from England's women's soccer team. Adorbs.
Here are a few more particularly sweet moments, just for fun.
Guys, this is only the tip of the dad-cuteness iceberg. Because basically, any photo of Prince William, Kate Middleton, and their adorable children is awww-worthy in my book. I have a feeling that when royal baby number three makes his/her grand entrance in April, the cuteness factor will only be multiplied. And I'm totally here for it.