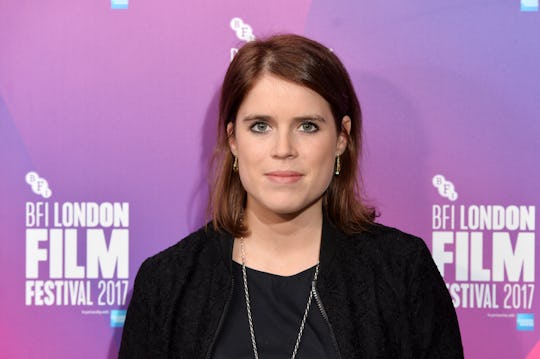 Jeff Spicer/Getty Images Entertainment/Getty Images
Princess Eugenie Doesn't Wear A Tiara Because Of This Royal Rule
Oh those nutty royals. They are really big fans of the weirdest rules. Like letting one 92-year-old woman pick out the color of nail polish every woman in her family gets to wear forever. Granted, that woman is Queen Elizabeth, the longest reigning monarch to ever wear the crown in the United Kingdom. So perhaps it's not all that surprising that she gets to make a bunch of fashion choices. Even when it comes to who gets to wear tiaras, which are basically party crowns. Apparently Princess Eugenie doesn't wear a tiara for a pretty weird royal reason.
I'm sure everyone remembers both Kate Middleton and Meghan Markle walking down the aisle to their respective prince brothers wearing spectacular tiaras. I know what you're thinking, guys; how is it possible that both of those women get to wear tiaras while Princess Eugenie, who is a literal princess and was born into the royal family via her dad Prince Andrew, doesn't get to? Brace yourself for some royal weirdness. According to London jeweler Geoffrey Munn, Princess Eugenie can't wear a tiara until she's walking down the aisle to marry her fiance Jack Brooksbank because she's single. You know, when he makes an honest woman out of her. Ugh. I need to take a minute here to process. Go about your business.
Okay, apparently Munn explained to Town and Country that single gals like Princess Eugenie and her younger sister Princess Beatrice aren't technically forbidden from wearing tiaras, but it's severely frowned upon.
Any woman may wear one, but ancient tradition has it that they must be a bride or already married. One of the mainstays of European royalty and aristocracy is to do what you have always done and formal dress, jewelry, and tiaras are just part of this.
Munn went on to explain to Irish magazine Her:
The tiara has its roots in classical antiquity and was seen as an emblem of the loss of innocence to the crowning of love.
Let's all pretend we didn't see that "crowning" pun and move on with our lives, shall we?
The good news is that Eugenie will be allowed to wear a tiara when she walks down the aisle at St. George's Chapel in Windsor Castle on Oct. 12, but here's a little more bad news; her maid-of-honor, sister Princess Beatrice, is still single and therefore tiara-shunned, according to Refinery 29.
I feel like she'd prefer to wear some cool fascinator or a live peacock on her head or something like that instead anyhow. These two royal sisters sure do love a crazy hat. Especially at a royal wedding.
Royal watchers have been speculating that Princess Eugenie will wear the same tiara that her mom, Sarah Ferguson, wore when she married Prince Andrew back in 1986. That tiara is called the York Diamond Tiara, according to People, and was expressly commissioned by Queen Elizabeth herself for Sarah Ferguson to wear on her wedding day. The couple divorced in 1992, but they remain super close to this day. Which I think probably means that tiara is free from all jinxes. The real question is this; will she wear the tiara under a wreath of flowers in her hair like her mom?
If I were a betting girl, I would actually put my money on Princess Eugenie skipping the tiara. As her sister Beatrice told Vogue in a recent interview, "Eugenie is a very modern bride." She seems to like to do things her own way. So part of me would love to see her forget about the stale tiara and try something different.
The other part of me just desperately wants to see a tiara again. So I guess it's a win-win.