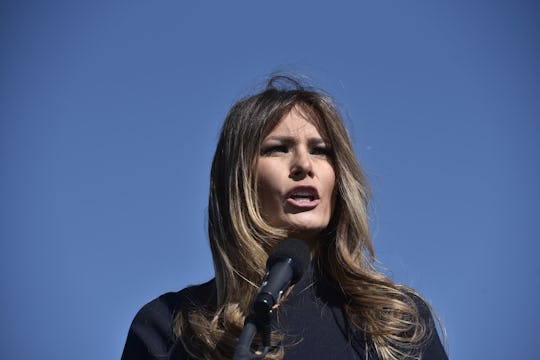 MANDEL NGAN/AFP/Getty Images
'Rape Melania' Sign Causes Uproar On Twitter, But For All The Wrong Reasons
Since Donald Trump was elected president of the United States in the past week, people have been understandably upset — and they have the right to defend themselves from a man who spews so much hate. There have plenty of statements made about Trump from the people who are not behind him. However, while a "Rape Melania" sign allegedly seen at an anti-Trump rally caused uproar on Twitter this week, the otherwise appropriate backlash manifested for completely incorrect reasons — and now some are defending themselves against the swift criticism, maintaining that almost no anti-Trump protesters actually supported the hateful rhetoric against Mrs. Trump.
That statement reportedly written on the sign is undoubtedly disgusting and deplorable — no one should ever wish such a terrible act against an innocent woman. Let me make it clear: no matter who was behind that sign, it is never okay to wish such a thing on anyone. However, the reaction to the sign on Twitter and the subsequent trending topic has caused uproar for all the wrong reasons. Instead of pointing fingers at one person, Trump supporters are pointing fingers at all liberals when no one — except rape culture that makes people think writing signs like this are okay — is to blame.
Worse still, the reason the topic is trending still is because everyone is talking about how upset about they are about the sign, not that people are supportive of or repeating the vile message. What caused the topic to trend, as Guardians of the Galaxy director James Gunn pointed out on Twitter Sunday, was reaction to the photo. No one who honestly aligns themselves in the fight for women's rights and open-mindedness thinks this sign is OK, and these misreadings of the content in trending topics have gotten out of hand in the worst way.
The sign was first posted on Twitter Saturday evening, when user @thereal_beck posted a photo of the sign from a Washington D.C. Trump protest in front of the new Trump hotel. Conservative media websites then picked up on the photo, which has over 2,000 retweets. The topic later became trending, but not because people were repeating the sign's message — instead, they were condemning the awful words.
Conservative Twitter users then saw that the topic was trending and began to point fingers at everyone else for claiming they were in support of its awful message. By people claiming that the left is responsible for this awful message and the more they have talked about it, they more they continue to keep the topic trending.
The whole thing is now completely misconstrued — and it is still unclear whether the sign is real, staged by an alt-right Trump supporter, eager to paint protesters in a bad light, or if it's simply photoshopped. It should be noted that, as far as anyone can tell, other photos from Saturday night's protest in Washington D.C. did not capture the sign itself.
Regardless — the truth is that we live in a society where seeing a sign like this is completely believable. In no way is this sign right, but pointing fingers at people for making the topic trending when they were simply upset about it isn't right either.
In a time where both sides are experiencing unrest, overreacting before gathering facts simply makes it worse.