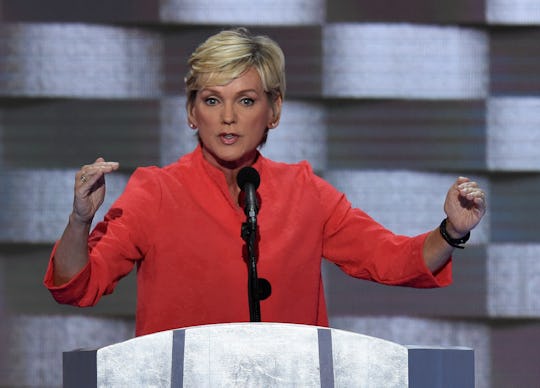 SAUL LOEB/AFP/Getty Images
Reactions To Jennifer Granholm's DNC Speech Were Wildly Enthusiastic
Carly Simon made an appearance at the Democratic National Convention on Thursday. Though not in person, the singer-songwriter was echoed through Jennifer Granholm, the former Michigan governor who put it plainly: "Donald, you're so vain, you probably think this speech is about you, don't you now?" Her emphatic manner of speaking, humor, and unabashed willingness to address last week's Republican National Convention made her a hit on Twitter. Reactions to Jennifer Granholm's DNC speech show that DNC reporters and attendees are here for her energetic speech/stand-up hybrid.
For some, Granholm's big DNC speech on Thursday night served as an introduction, as many took note of her fresh voice for the first time. Even better, it had people wishing that Granholm herself could run president. The answer to that wish, however, is an unfortunate "no": Granholm was born in Canada and, though she's a naturalized citizen, is ineligible.
Regardless, Granholm spoke proudly of the state of Michigan on Thursday, despite the state's current economic hardships. She thanked President Obama for his work to help "save the American auto industry," claiming that, in turn, the industry "paid America back, in full." "We're all in this together," she shouted, and "one candidate gets that," whereas the other, she quotes Joe Biden's previous address, "doesn't have a clue."
Social media responded in kind:
Newfound Granholm Fans
That Signature Granholm Energy
She's VERY Convincing
She's A Verb
She's Fine With Being Gif'd
Granholm returned to the Trump-bashing, claiming that the RNC failed to provide "actual plans" at their convention, focusing on vague ideas instead. Clinton, she assured, has plans: "You wanna see 'em? You can actually see em," she said. Granholm also re-envisioned what a self-centered, "vain," Constitution would look like. "We the people" becomes "I the person." Granholm postulated that a possible president Trump would "ask not what I can do for my country, ask what my country can do for me."
This sarcastic, forward-looking speech brought an energy that seemed to liven up the DNC crowds. Granholm's emphasis was on unity among various U.S. regions, reminding the audience that "we are all connected to each other no matter where we live." With a democrat as commander-in-chief, Granholm believes the democratic party can work to "keep America great." She closed out her speech with a series of call-and-response questions, the last one being "And we're gonna work our hearts out to elect Hillary Clinton president, how?" The audience responded with a shout: "Together!"