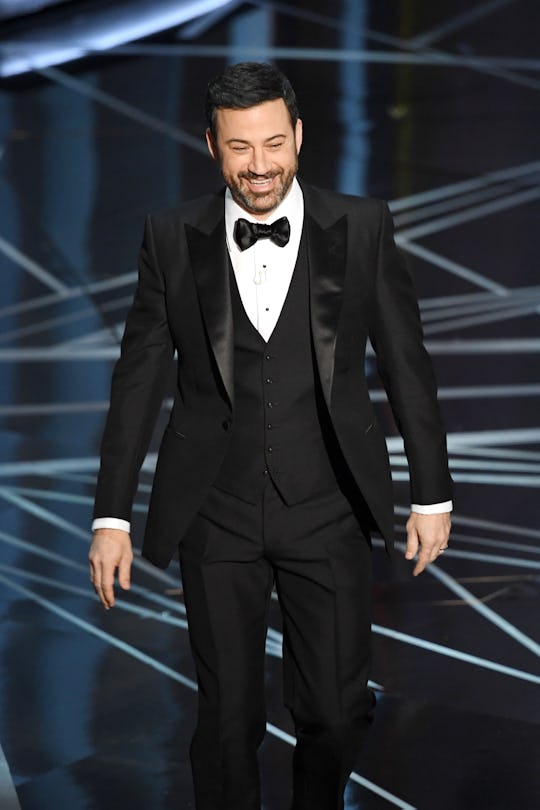 Kevin Winter/Getty Images Entertainment/Getty Images
Reactions To Jimmy Kimmel's Oscars Monologue
The 89th Annual Academy Awards kicked off live from the Dolby Theatre with an opening monologue from host, comedian Jimmy Kimmel. Everyone always hopes for a strong opener to any award show, but this year the stakes at the Oscars are especially high, given the sociopolitical climate. Twitter reactions to Jimmy Kimmel's opening monologue at the Oscars show that people were expecting political commentary as much as comedy.
The week before the ceremony, Kimmel joked with CNN about his nerves when it comes to hosting — especially in such a politically intense year — but admitted the gig was "something I was hoping to be asked to do, but I didn't necessarily ever want to do it."
Kimmel's opening monologue didn't waste any time getting straight to the political hot points, as he said people were watching the ceremony from all "around the world in more than 225 countries that now hate us." Twitter also went wild as Kimmel took no prisoners when it came to calling out some of the more controversial stories from the year in film, Hollywood, and beyond — and praising some stars who have been at the receiving end of President Trump's lofty criticisms — namely, Meryl Streep. The record-setting, 20-time Oscar nominee got a standing ovation at mention of her name during Kimmel's opening.
Kimmel, 49, is the host of late night talk show Jimmy Kimmel Live!, which premiered on ABC in 2003. Although this year is the first he's hosted the Academy Awards, he's not a stranger to the award-show circuit: he hosted the Emmy's in 2012 and again last year. Kimmel was born and raised in Brooklyn and got his start in radio, then eventually made the leap to television as part of Comedy Central's Win Ben Stein's Money.
For those who aren't in-the-know and might be wondering about Kimmel's jabs at Matt Damon, the two have been in something of an epic, long-term, albeit totally fake feud since 2006. In the early days of Kimmel's talk show he would end the show by saying they were out of time and apologizing to Matt Damon. When Damon actually did appear as a guest on the show, Kimmel jokingly cut him off, saying they didn't have time for his segment, and Damon fumed. It was a big inside joke, but people actually thought it was real — and the "faux feud" between the two took off, and has been ongoing for about a decade.
Of course that being said, not all Kimmel's jabs were friendly, and we have to assume he doesn't have the same kind of inside joke repartee with, say — Donald Trump. No doubt we'll find out after the show when the president takes to Twitter to give his critique, though.