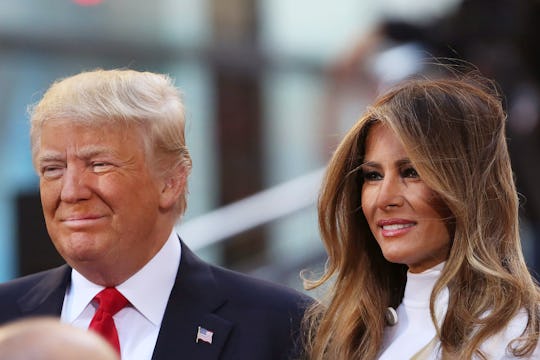 Spencer Platt/Getty Images News/Getty Images
Reactions to Melania Trump's Republican National Convention Speech Were Mixed
The Republican Convention certainly started off with a bang. Presumptive Republican nominee Donald Trump kicked off the convention this week by inviting his wife to speak for him. Already, reactions to Melania Trump's Republican National Convention speech show that she feels pretty comfortable with all this political stuff — and that people are more than happy to eat it up.
It was an odd move to have Melania speak so early on in the week — usually the bigger names or those closest to the candidates speak toward the end of the week. But having Melania speak early wasn't the only tradition that the Trump's disrupted. Not one to to be upstaged, Trump actually made an appearance on Monday night to introduce his wife himself, entering with a smoke machine to "We Are The Champions." He kept his intro short and sweet before bringing his wife out on stage.
Melania started her speech by talking saying that Trump was "moved" by the honor of being the Republican candidate. She spoke about herself, her upbringing, and made sure that everyone knew she, along with Trump, was "in love" with America. "Donald gets things done," she said.
It's very rare to hear from Melania, although she's been making more and more appearances now that the campaigns are gearing up for the general election. She has said on numerous occasions that she prefers to stay out of the spotlight and spend time with her son, Barron, and normally, her hands off style when it comes to Trump's politics seems to work just fine. But many think that Melania is an asset to Trump's campaign, especially because she is an immigrant who became a U.S. citizen. Many think that she shows a "softer" side of Donald Trump.
Of course, many on social media still weren't convinced:
While many in the GOP thinks that Melania Trump is an asset and proves, as Newt Gingrich said on Monday, that Trump isn't completely anti-immigrant, many in the public aren't her biggest fan. In fact, she's the least liked potential first lady since 1992. According to The Washington Post, 28 percent of Americans view her favorably while 32 percent view her unfavorably. Usually first ladies go into the convention with double the positive approval ratings. (Take Hillary Clinton back in 1992 — she went into the convention with 55 percent of Americans liked her, and 26 percent did not. You sort of have to appreciate how things come full circle.)
Either way Melania doesn't seem concerned about what anyone thinks of her. In her speech on Monday, she sort on introduced herself, gave a little background, and stuck to the immigration line. Overall, it seemed that Melania had won over the delegates in Cleveland talking about her family life, veterans, and reassured Americans that her husband is dedicated to politics and his cause.
She just might have to work a little harder to convince non-Trump supporters that her husband is fit for the job of president.