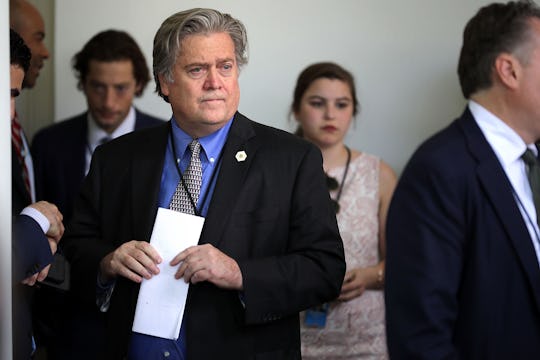 Chip Somodevilla/Getty Images News/Getty Images
These Reactions To Steve Bannon's Firing Are Funny
Oh, Steve Bannon. When president Donald Trump hired the former executive chairman of Breitbart News, a right wing news site, to be a top White House strategist after he was elected into office, people weren't too happy about it. Bannon is described as a "right wing provocateur" with many beliefs that don't sit well with others. With no political background (like Trump) people believed that he did not belong — and with his departure, they're happy to see him go. You need to see these reactions to Steve Bannon's firing, which many believe is Trump's best decision made in the White House yet.
Bannon first served as Trump's campaign chairman during the election before taking on the role as chief strategist in the White House. And although he shied away from the TV cameras (unlike some people in Trump's administration), Bannon still got a lot of attention, in part of his (and Breitbart's) right wing, often extreme nationalist views.
There was a lot of pressure placed on Trump to let go of Bannon, after he reportedly didn't get along with many of Trump's advisors, according to Newsweek, and often rubbed them "the wrong way," according to CNN. But on Friday, the deed was finally done when White House Press Secretary Sarah Huckabee Sanders announced that Bannon's leave from the White House was a mutual decision made by Bannon and new Chief of Staff John Kelly. "White House Chief of Staff John Kelly and Steve Bannon have mutually agreed today would be Steve's last day. We are grateful for his service and wish him the best," Sanders said in a statement.
Needless to say, once the announcement was made, people were pretty excited. The reactions posted to Twitter are worth noting, if only for how hilarious (and true) they are.
Bannon's removal from the White House comes at an extremely poignant time in the nation, after a "Unite The Right" rally in Charlottesville, Virginia last week left one counter protestor dead and a nation reeling from the aftermath. According to Vox, Bannon and his views have "attempted to steer Trump administration policy, and the GOP generally" towards nationalism.
As funny as these tweets are, other users were quick to point out the real matter at hand: although Bannon is fired, it does not change who sits at the helm of the Oval Office. On Twitter, users pointed out that Trump made the decision to hire Bannon in the first place, which makes him guilty by association.
Bannon leaving the White House does signify some sort of shake up, but it doesn't fix much. As Vox points out, Bannon was not Trump's brain and Bannon's influence over the president was "reigned in" shortly after Trump took office. Therefore, there won't be any major changes in what the president does or says.
Still, after all of the recent departures from the White House, Bannon leaving is definitely something worth noting and celebrating.