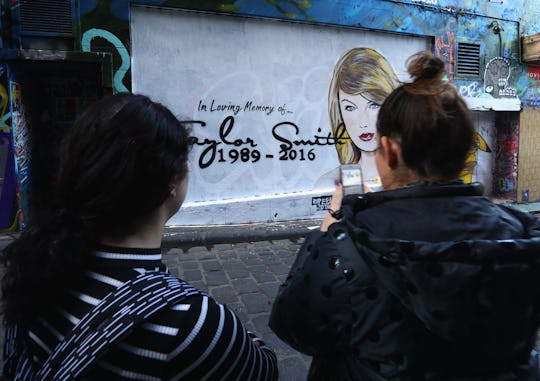 Robert Cianflone/Getty Images Entertainment/Getty Images
Reactions To Taylor Swift & Tom Hiddleston's Break Up Are Predictably Divided
Just stop whatever it is you're doing because America's sweetheart is single once again and the reactions to Taylor Swift and Tom Hiddleston's break up are all you really need to be concerned about right now. Yes, now that Labor Day has come and gone, the summer fling — complete with their rainy day beachwear and Roman holidays — is officially over. Is it just me or do you hear Taylor Swift scribbling new album lyrics in a Moleskine journal somewhere in Rhode Island? We can only hope.
The two were first spotted in public together back in June amid rumors that their relationship was just for publicity following Swift's breakup with DJ Calvin Harris. But it doesn't look like there was any master plan — just two very public, good looking, young people doing their thing. In July, Hiddleston told The Hollywood Reporter, "Look, the truth is that Taylor Swift and I are together, and we're very happy. That's the truth. It's not a publicity stunt." (Representatives for Hiddleston and Swift did not immediately return requests for comment.)
According to People, it was a mutual, easy going split. A source told the magazine that, "it was an amicable split." So everyone can stop worrying. That doesn't mean that fans and the Twitter-verse are OK about the relationship coming to an abrupt end after just a few months, though.
Some Are (Faux) Shocked
Others Are Already Planning The Future
And Some Just Want Everyone To Leave TSwift Alone
It was a "whirlwind" romance, to be sure. The couple reportedly hit things off at the Met Gala this spring, while Swift was still dating Harris. They soon were spotted all over the place, holding hands, and cozying up together. They even met each others' parents, so it all seemed pretty legit. But then things, as they do, started to go wrong.
According to Us Weekly, it was Swift who was starting to feel uncomfortable about where the relationship was going. A source told them, "She was the one to put the brakes on the relationship. Tom wanted the relationship to be more public than she was comfortable with." The source added that "Taylor knew the backlash that comes with public displays of affection but Tom didn't listen to her concerns when she brought them up." According to the same source, Hiddleston was allegedly "embarrassed" that they had officially called it quits.
Of course, no one ever knows (not even all those anonymous sources) what really goes on between two celebs when they start to hit it off. In this case, it looks like a relationship that was blown up by all the attention it received, whether it was welcome or not. Breakups are the worst, but all summer romances fade eventually — hopefully the drama surrounding this one will go away quickly, for both halves of Hiddleswift.