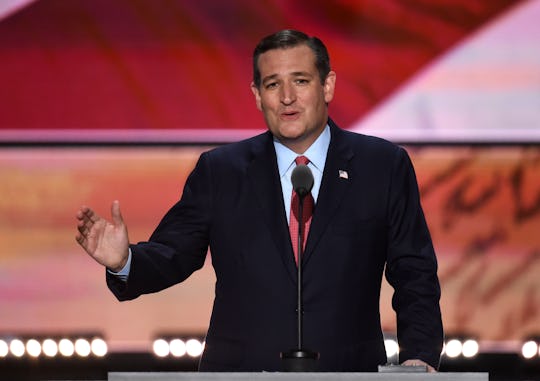 TIMOTHY A. CLARY/AFP/Getty Images
Reactions To Ted Cruz's RNC Speech Were Hilariously Mixed
If you're a Republican or Democrat, you'll probably agree that this Republican National Convention is all over the place, to put it lightly. In one of the strangest turns of events, Republican nominee Donald Trump invited former presidential candidate and conservative Texas Sen. Ted Cruz — the man he often called "lyin' Ted" during the primary season — to speak on his behalf on Wednesday night. Already, reactions to Ted Cruz' RNC speech are mixed. Some felt his speech was powerful, especially since he barely mentioned the nominee. Others couldn't see past the fact that he once battled Trump pretty hard — calling him a pathological liar and other things.
In the lead up to his speech on Wednesday night, many were still speculating about whether or not Cruz would full on endorse Donald Trump or just talk about his own ideas for the party and country's future. He told Politico, "In this election I am where a great many voters are, which is that I am listening and watching and coming to a decision." Early on in his speech it became clear that Cruz wasn't going to outright endorse Donald Trump at all. He congratulated the nominee and said that he believed American could come "back again," which is sort of like making America great again, but not quite. And then he went on and did his own thing
He then began talking about Michael Smith, one of the police officers who was shot in Dallas a few weeks back. Cruz focused on what he called the "real issues," namely the violence in Dallas and how the country needs to be less divided when it comes to violence and terrorism, noth domestic and abroad, as he cited Orlando, Paris, Baton Rouge.
Many expected that Cruz would talk more about why Democratic presumptive nominee Hillary Clinton should not be president at all and also try to stay loyal to his supporters, who haven't all come over to Trump's side yet. But his speech was a little more ominous, implying that this election is a do-or-die moment and compared it to Smith's daughter saying "goodbye" to her father for the last time before the attack.
Twitter wasn't really having it, especially presumptive nominee Hillary Clinton:
As his speech went on, Cruz focused on the ideas of "freedom," like the right to bear arms, elect Supreme Court justices that "follow the Constitution." He also gave a nod to Colorado, which cast most of their votes for him on Tuesday night and the idea of "promoting local values," and small government. He urged Americans to "not stay home in November," and to "vote your conscience."
The crowd was pretty rowdy — some booing, some chanting "USA." The New York delegation began chanting, "we want Trump!" when Cruz didn't seem like he was ever going to endorse the nominee.
Cruz finished by talking about his family and the importance of putting America first. Donald Trump entered the convention hall just as Cruz finished, though, so as not to give his former opponent too much attention. It certainly a rousing speech.
Reactions were straight up and down mixed:
Earlier on Wednesday, Cruz was giving a speech at a rally outside the convention center in Cleveland and was interrupted by Trump's plane flying overhead, as the nominee headed to the convention. As Cruz's supporters booed the disruption, the senator joked, "Alright that was pretty well-orchestrated. Jeff (Cruz's previous campaign point man), did you email them to fly the plane right when I said that?"
The crowd for Cruz earlier in the day was pretty huge, which speaks to how divided the party really is about the nomination of Trump and the hard primary fight between the real estate mogul and Texas senator.
Many believed that Cruz would try to go for a "Reagan moment" during his speech, referencing the 1976 speech Reagan gave at the convention after losing to Gerald Ford. (Ford ended up losing to Jimmy Carter, and Reagan finally took the White House four years later.) It's possible that Cruz's momentum going into Wednesday night hinted at what the future held, specifically in 2020.
And they way he worked the stage on Wednesday night? That scenario is looking entirely possible.