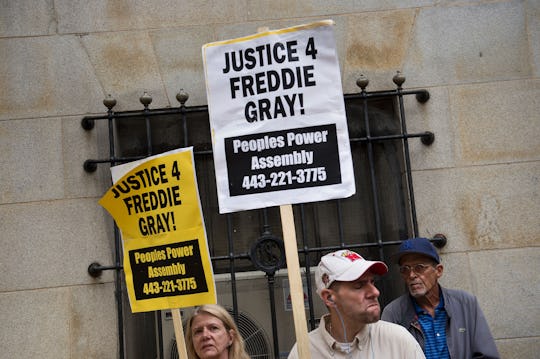 BRENDAN SMIALOWSKI/AFP/Getty Images
Reactions To The Freddie Gray Verdict Show Just How Many People The Case Reached
On Thursday, June 23, Caesar Goodson Jr., one of the officers indicted in the death and arrest of Freddie Gray last April, was acquitted of all charges. The case made headlines when Gray, 25, died after an arrest and transportation to a trauma center. Reports claim he fell into a coma during the transportation process, which led to six officers being indicted, including second-degree depraved heart murder, three counts of manslaughter, second-degree assault, reckless endangerment, and misconduct in office. Needless to say, the reaction to the Freddie Gray verdict, specifically Goodson's acquittal, has been emotionally charged and powerful.
There became a mystery surrounding the death of Gray. As The Atlantic reports, upon Gray's arrival to the police station, he was unable to breathe or talk, and was suffering from issues that would eventually kill him. Then, Baltimore State's Attorney, Marilyn Mosby, announced that "The manner of death deemed a homicide by the Maryland State Medical Examiner is believed to be the result of a fatal injury that occurred while Mr. Gray was unrestrained by a seatbelt in the custody of the Baltimore Police Department wagon," which led to the arrest of six police officers.
The case that followed was watched closely by the nation, as the details of the arrest and transportation were theorized and worked out. Needless to say, there was a lot of emotionally charged chatter among the internet that brought out points regarding the case that no one can ignore. Now that the verdict has been announced for Goodson, the internet, specifically Twitter, has filled with opinions regarding the announcement.
The overall takeaway in feelings regarding the verdict seem to be focused on the fact that there are still no answers for Freddie Gray's death. More specifically, his family does not have the closure for Gray's death.