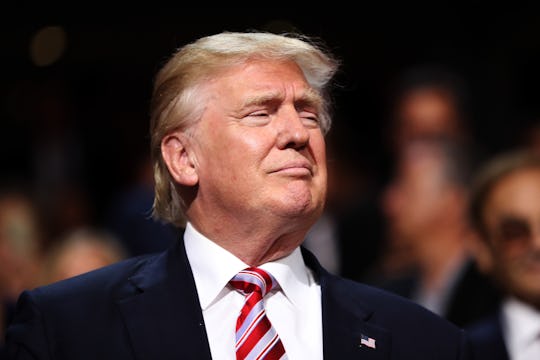 Joe Raedle/Getty Images News/Getty Images
Reactions To Trump's Convention Speech Insulted Many, But They Weren't Too Shocked
The Republican National Convention has been filled with plenty of unpredictable and dramatic moments so far — Melania Trump's plagiarized speech and Ted Cruz's refusal to endorse the Republican party's chosen presidential candidate — and the final night of events was no different. Viewers at home and those in the Cleveland arena had been anticipating the moment when Republican presidential nominee Donald Trump took the stage on Thursday night to speak on the night's theme: Make America One Again. The pressure was definitely on Trump to deliver a blockbuster speech, following the many sensational and unforgettable moments that have taken place so far at this year's Republican convention. Many waiting for this moment got a sneak peak at Trump's speech after Politico obtained and released a copy of Thursday's transcript. People promptly took to social media to share their reactions to Trump's convention speech.
Even before he took the stage, many commented on the importance of Trump's speech. According to an interview with ABC News on Thursday, James Campbell — a political science professor and author of the upcoming book Polarized: Making Sense of a Divided America — said Trump's speech needed to be able to undo the damage that has happened so far throughout his campaign.
"This is a tall order," Campbell told ABC News on Thursday. "I'm not sure any speech can do that, and I'm not even sure Trump understands that this needs to be done."
Well, let's have a look and see what people thought actually of Trump's convention speech.
One questioned how the transcript of the speech was leaked:
Many noticed Trump's Marketing of Fear style and unfounded facts :
Some were insulted by the overwhelming themes of Trump's speech:
While others weren't surprised by any of it:
The eyes of America were centered on Trump before and while he was on stage. His speech on Thursday night will surely set the tone for the rest of his presidential campaign and while some are completely on board with his stance on he issues, many other aren't.
"It's time to deliver a victory for the American people," Trump said, according to the leaked transcript. "But to do that, we must break free from the petty politics of the past. America is a nation of believers, dreamers, and strivers that is being led by a group of censors, critics, and cynics."
The billionaire businessman accepted the presidential nomination on Tuesday, July 19, just one day after chaos erupted in the crowds as delegates from a handful of states demanded a roll call vote as one last attempt to keep Trump out of office, which ultimately proved to be unsuccessful.
So, now that it's officially official that Trump may be the next President of the United States, Americans will truly need to consider, if they weren't before, if this New York businessman can be as successful in the Oval Office as he has been getting himself rich and making a lucrative career for himself and his family. Trump's overall presence is both brash and boisterous, as are his plans, and his convention speech totally fit that bill.