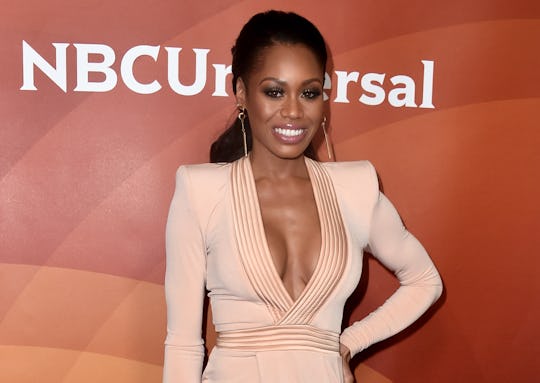 Alberto E. Rodriguez/Getty Images Entertainment/Getty Images
'Real Housewives of Potomac's Monique Samuels Gives Birth To A Son
It looks like congratulations are in order for one reality TV star. That's because a member of the Real Housewives family is officially a mother — for the third time! On Monday, Nov. 26, it was announced that Real Housewives of Potomac's Monique Samuels gave birth to a son. The big news was revealed exclusively by People.
So are you ready for the deets? According to the publication, Monique and her husband, former Washington Redskins offensive lineman Chris Samuels, welcomed a baby boy they named Chase Omari Samuels. Their little guy was born at 4:56 p.m. on Monday. He weighed in at 8 pounds, 15 ounces, and measured 21 inches long. Oh, and baby Chase is "absolutely perfect," according to the new mom. The proud parents already have a son, Christopher, 5, and a daughter, Milani, 3, at home.
Although there doesn't seem to be a social media announcement yet, Samuels has already shared her newborn's first photos with People. (Check them out!) Plus, Samuels has updated her Instagram account fairly regularly through her pregnancy. So I'm willing to bet there will be some adorable newborn photos within the next few days or so.
As Us Weekly reported, Samuels had previously experienced a miscarriage before becoming pregnant with her newest addition. Because she had two totally healthy pregnancies before, Samuels said she hadn't even considered the possibility of a miscarriage before it actually happened to her. "It taught me not to take things for granted and to think that I'm so special that something like that can't happen to me," she said, according to Bravo. "I just try to look at the positive in any situation and say obviously God knew what was best at that time."
Additionally, her miscarriage affected how she experienced this pregnancy. "I almost wanted to detach myself from the pregnancy because I didn't want to feel any hurt or pain if something did happen," Samuels told Us Weekly. It wasn't until the second trimester — when the risk for miscarriage significantly decreases, according to Parents — that the expecting mom was able to relax. "I made the decision that I want to enjoy this pregnancy and whatever happens, happens," Samuels told Us Weekly. "I had to turn on my positive thinking and say, 'You know, I'm just gonna trust and believe in God.'"
As Hollywood Life reported, Samuels publicly revealed she was expecting baby number three back in June. "I'm way too happy to be bothered... I'm full of life... LITERALLY 😆🙌🏾," she captioned a boomerang of herself flapping her dress and revealing a bump.
Samuels' most recent pregnancy-related Instagram post was shared ahead of Thanksgiving. The video featured her son and daughter expressing how excited they were to meet their new sibling.
"How are you going to get the baby out?" Christopher asked.
"I'm going to push it out," Samuels replied.
"How are you going to do that?" Christopher asked his mom.
"Well, I don't know if you want all those details now," she laughed. In the post's caption, the expecting mama noted, "I'm not ready for these types of questions! But we're all ready for this baby!!"
Having experienced a miscarriage between my first and second children, I can relate to Samuels' fears going into the pregnancy with her rainbow baby. Don't get me wrong, I wanted to be hopeful and to be as carefree as I was during my first pregnancy. But unfortunately, suffering that miscarriage has stripped away the innocence of the experience each time after that for me. (Because "what if?") I'm sure both Samuels and her husband are feeling relieved now that their baby boy is finally here. And I have zero doubt that Christopher and Milani are completely over the moon for their little brother. Congrats, guys!
This first-time mom wants to have a home birth, but is she ready? Watch how a doula supports a military mom who's determined to have a home birth in Episode One of Romper's Doula Diaries, Season Two, below. Visit Bustle Digital Group's YouTube page for the next three episodes, launching every Monday starting November 26.