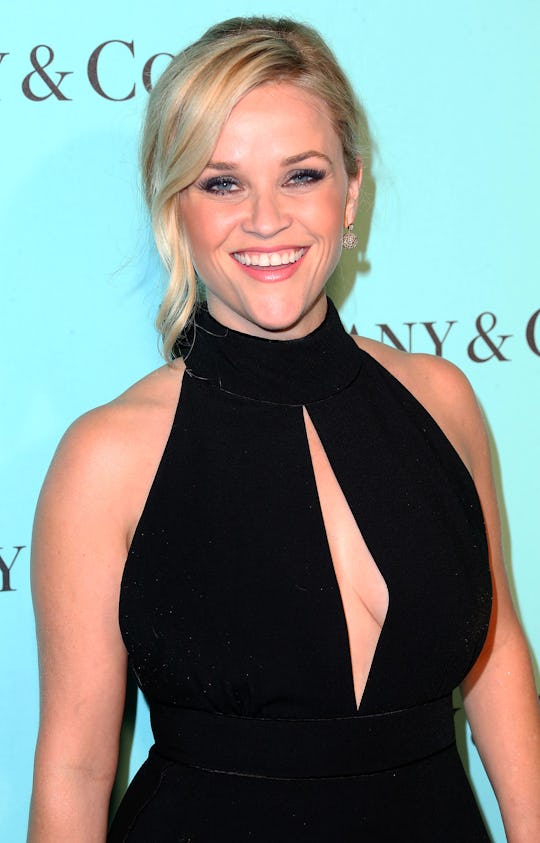 Frederick M. Brown/Getty Images Entertainment/Getty Images
Reese Witherspoon Says She Loves Being A Working Mom, & Thinks It's Good For Her Kids, Too
Reese Witherspoon might be a hugely successful Hollywood actress who can easily rake in the big bucks, but that doesn't mean she doesn't also work incredibly hard. In addition to her acting career, the mom-of-three also runs a successful film production company, and has most recently branched out into fashion and lifestyle, with her line, Draper James. In a new interview with In Style, Reese Witherspoon said she loves being a working mom, despite how challenging it can sometimes be to have her plate so full with different responsibilities. Even more than that, though, Witherspoon said that it's important to her that her kids have grown up seeing her working, and that she thinks "it's going to make them hard workers."
In the magazine's December cover story, Witherspoon spoke in-depth about a variety of topics dear to her heart, including her family, her business, her southern upbringing, and even Dolly Parton. She shared that, as a kid, she told her teacher that she was "going to be Dolly Parton" when she grew up, but that, beyond her Dolly dreams, it was her mother who instilled in her a strong work ethic. Witherspoon told the mag,
My mom worked, and I think it's good for kids to see women working and being successful. I think it's going to make them hard workers because they see that I don't get much sleep. But I love what I do. I want them to grow up with passion. This is the one life you get, and you have to live it to the very end.
A big part of that passion these days? Ensuring that her Draper James line is as successful as possible — something which Witherspoon admitted hasn't always been easy, given that it's been a big departure from her decades-long career in acting. She explained,
It's a new chapter for me starting a business, going around passing the hat, and promoting it all over the place. It's a different experience, but I'm enjoying learning something new. I've been acting for about 25 years, and I still love it, but I like the challenge of trying something else too.
According to The Daily Mail, it's been going pretty well so far. Witherspoon launched Draper James online last spring, and since then she has opened two retail stores, in Nashville and Dallas. And Witherspoon's star power certainly doesn't hurt the cause — she is often spotted out in clothing from her line, and regularly promotes Draper James on social media.
It's a line she says is deeply inspired by her own upbringing in the South, and Witherspoon told Extra she hopes it reflects the kind of trends she feels represent southern women:
Southern women like to look dressed. I grew up in a a place where you were supposed to dress up to go on an airplane. I like getting dressed up, I think it's fun and I want to make that easy for women.
I grew up in the middle of the country, so when I think of dressing, I think about all the people in between New York and L.A. and what we wear to sporting events or church or a dinner party.
But no matter how successful her various business ventures become, it's clear that her priority will always be her children, 17-year-old Ava, 13-year-old Deacon, and 4-year-old Tennessee. Witherspoon revealed to In Style that her older children help take care of their younger brother, and said "it's nice to have a big family." She also admitted to Extra that watching her daughter Ava grow up can be bittersweet, but explained "it's great to see her becoming a beautiful young woman."
Witherspoon probably has one of the loveliest, most beautiful families in Hollywood, and it's great to hear her talk about her drive to be a role model for her kids. Of course, it's also clear though that Witherspoon's position as an A-list actress likely offers her the kind of support and privilege that most working moms don't enjoy, like the ability to easily afford help, the chance to handpick projects or to take time off if needed. But the sentiment is still likely one that resonates with a lot of moms who are working hard to juggle their careers with their familial responsibilities.
We might not all be able to live the kind of glamorous movie-star life that Witherspoon does, but wanting to show our children that women can be strong and successful and passionate about whatever it is that they're doing? That's definitely seems like something worth striving for.