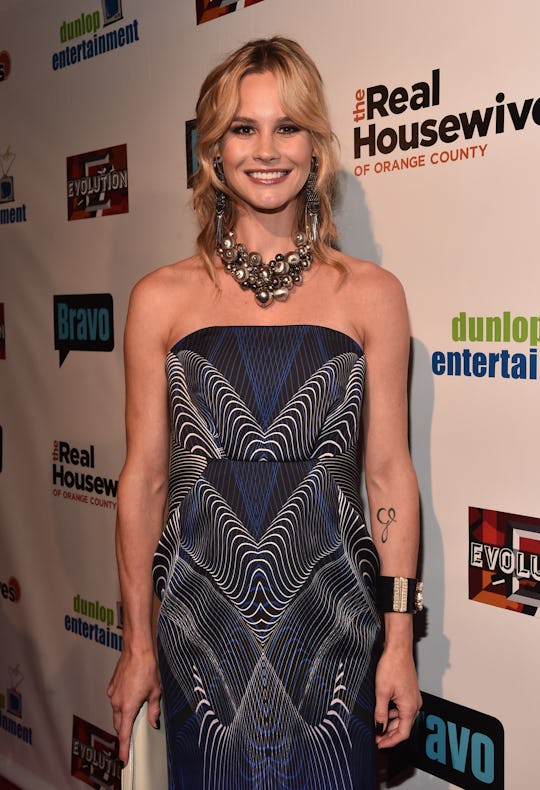 Alberto E. Rodriguez/Getty Images Entertainment/Getty Images
'RHOC's Meghan King Edmonds Reveals She's Pregnant With Twin Boys In The Cutest Photo
Well, things are certainly about to get a whole lot more real for one housewife. That's right folks, after a long and strenuous journey with IVF and dealing with all the drama of being a reality television star, there is a light at the end of the tunnel. Real Housewives of Orange County star Meghan King Edmonds is expecting twin boys and the announcement is every bit as adorable as you'd think.
In an Instagram post shared Thursday afternoon, Edmonds informed her fans that she was pregnant with not one, but two little boys, due in June of next year. "Surprise, surprise! We're having TWINS! Oh boy oh boy!" Edmonds captioned the adorable photo, along with the hashtags, "#doubletrouble #threeundertwo" and two blue heart emojis.
As fans of the hit Bravo show will remember, Edmonds started her second IVF journey at the end of the latest season of RHOC, so it wasn't as documented as her first attempt, which resulted in her pregnancy with her daughter, Aspen. So, in a November blog post, Edmonds formally announced her second pregnancy, while also detailing her IVF procedures this time around and informing readers that she was 10 weeks along, likely with a boy.
And now, it seems as though Edmonds' happy news has been multiplied, by two to be exact. Edmonds, for her part, seems thrilled that she'll be able to share how they became pregnant with twins. "It was so hard for us to keep it a secret from everyone especially since we shared our entire IVF journey with Aspen on RHOC from the very beginning," she explained on her blog.
And truly, this news has been a long time coming. Edmonds married her husband, Jim Edmonds in 2014. And then, just over a Edmonds ago, in Nov. 2016, the happy couple welcomed Aspen into the world. Obviously, the two were thrilled at the news and eventual arrival of baby Aspen into the world, but they still felt something was missing: a boy.
On her blog announcing her second pregnancy, Edmonds explained how they decided to undergo IVF once again, this time with a very clear goal:
We began the IVF process over the summer. We started from scratch because we really wanted to have a boy (Jimmy has a total of five girls and one boy) and we only had two frozen female embryos. This was a difficult decision for us. Jimmy was adamant he didn't care about the sex of the baby, he just didn't want me to have to again endure the emotional rollercoaster that comes with IVF.
Honestly, who could blame Jim for wanting to protect his wife from undergoing all the trauma that comes with IVF? During her first round, Edmonds described how emotional she was, and in her November blog post, she reminded fans just how much she struggled last year.
"If you remember from RHOC, during my first round of IVF I entered the worst depression of my life," she wrote, continuing, that it was "probably due to the erratic hormones combined with loneliness." Fortunately, Edmonds found that she was able to get back to her old self eventually. "I was able to wean off my depression meds halfway through my pregnancy," she wrote. According to Tamar Gur, M.D., who spoke to SELF magazine about the emotional toll of IVF, Edmonds' depression was totally normal, albeit still unfortunate. "You don't usually start with IVF," she told the magazine. "By the time you get there, you've already been through a lot."
And now, the soon-to-be parents' journey is about to come full circle with the birth of their twin boys.
Check out Romper's new video series, Romper's Doula Diaries:
Watch full episodes of Romper's Doula Diaries on Facebook Watch.