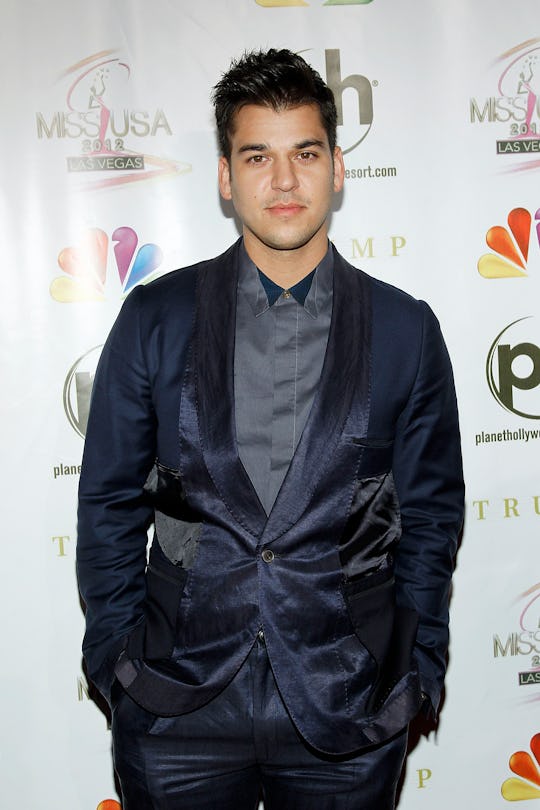 Rob Kardashian Showed Kylie Jenner Some Love On Instagram & 4 Other Times He Supported His Family
Rob Kardashian has been fairly quiet on social media lately after stepping away from Keeping Up With The Kardashians. The 28-year-old has been avoiding the spotlight, and while the rest of the Kardashians have talked about him on the show, it's all been very vague. However, Rob Kardashian recently Instagrammed his support for sister Kylie Jenner's new lip kit, which reminded fans of the several other times Rob Kardashian was a supportive of the Kardashian-Jenner clan.
Though he's currently shying away from attention, Kardashian has always stepped up to support his family and their accomplishments. It's hard not to applaud his decision to keep his life as private as he wants, as well as to give a hat tip to his relatives when he feels like cheering them on.
So what other times did Kardashian keep up with his fellow Kardashians by rooting for the Kardashians? Here are some of his sweetest tributes:
The Time His Dog Wanted Kylie's Lip Kit
Kardashian's most recent Instagram post is of his dog, looking like he's shopping for Kylie Jenner's lip kit collection. "I guess someone is disappointed they didn't get Kylie's lipkit!!!!" Rob Kardashian captured the shot. "Don't worry buddy more coming soon!"
The Time He Reminisced For Kendall's Birthday
When younger half-sister Kendall Jenner turned 20, Kardashian posted a picture of the two of them monkeying around poolside. He captioned the picture, simply: "I LOVE YOUUUUUUUU" — and really, what more needs to be said?
The Time He Raved About Khloé's New Book
Khloé Kardashian recently published her memoir, Strong Looks Better Naked, and her brother was quick to Instagram his support, captioning a snap of the cover with, "Check out my BEAUTIFUL Sister's new book, out TODAY!"
The Time He Supported Caitlyn's Transformation
In April, after retweeting several celebrities who praised Caitlyn Jenner, Rob Kardashian added in his own support. His touching message on Twitter read: "You have always been a role model to me and now more than ever, I look up to you. LOVE YOU!!" In an often machismo-centered world, it means a lot to have son Rob Kardashian step up for Caitlyn Jenner.
His Throwback for Kim Kardashian's Birthday
Though Kim and Rob Kardashian don't always get along, Kardashian posted a playful screenshot of them sharing a plate of fries for his sister's birthday, posting a sweet birthday message along with, "Thanks for always feeding me ... cheese fries all day baby."
It looks like the Kardashian-Jenner clan can always count on the sole boy of the family to send some love their way.
Images: Isaac Brekken/Getty; Rob Kardashian/Instagram (1, 2, 3, 4).