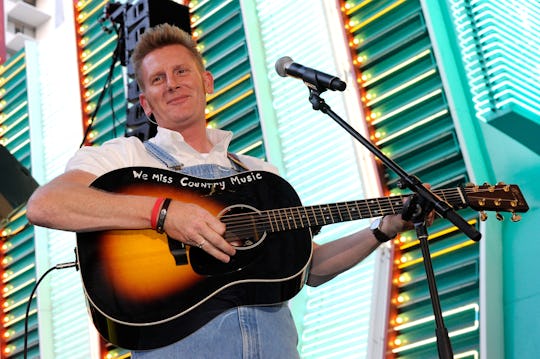 Ethan Miller/Getty Images Entertainment/Getty Images
Rory Feek Writes A Tribute To His Daughter, & It Will Warm Your Heart
Two-year-old Indiana Feek's life has never been typical, and it never will be. But her father wouldn't have it any other way. In a new blog post, country singer-songwriter Rory Feek wrote a tribute to his daughter, who was born with Down syndrome, explaining how "Indiana is not less than any other child. Different is not less." Rory was one half of the duo Joey + Rory, 2009's Academy of Country Music Awards Top Vocal Duo of the Year. Joey died from cervical cancer in March of 2016, and since then, Rory has been working on a film about her life, due in theaters Sept. 20.
While working on the film, Rory wrote that he's "been given the gift of seeing our lives unfold once more," and in hindsight, he's realized that Indy had an even greater impact on the couple's life than he recognized at the time. Rory can't imagine Joey's life without her two years as a mother to Indy: "When she was born, Joey and I said, 'this is the child God wants us to have,' and we believed it." And although Indy's "not the child we expected," he's now come to believe that "she's not less. She's more. More wonderful and more precious and even more important to our lives and story than we expected."
The Feeks may sound familiar even to those who aren't country fans; they gained prominence in March when Rory shared the fact that Indy hadn't asked for Joey in the weeks after she died due to her mother's selfless choice to distance herself from the toddler to lessen the impact of her death. Indy always to be with Joey, but in November of 2015, once Joey began to think that she might not survive her diagnosis, she encouraged Rory to form a stronger bond with the girl while she stepped back, telling her husband, "it's best this way."
Indy's brought Rory comfort in the months since his wife's passing, and she's been making great progress at her specialized preschool/therapy center. Rory's gotten to know many other kids with special needs at the school, and he's learned that they "come in all shapes and sizes. Some learn faster, some slower. Some are silent and some vocal. Some crawl and walk earlier than others and some, like Indy…take their time. But they are all beautiful." His takeaway is that Indy's diagnosis "doesn't make her life any less meaningful than someone else's or her dreams or feelings any less important. Not as a child and I suspect, not in the years to come when she grows to be an adult."