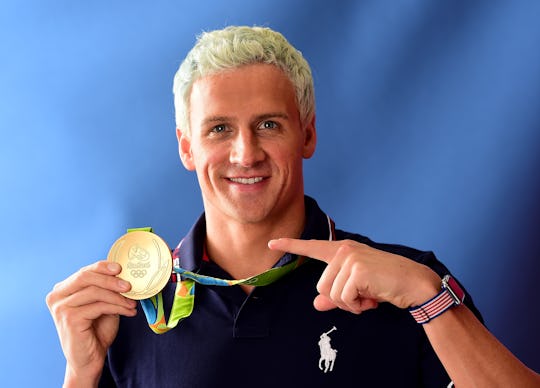 Harry How/Getty Images Sport/Getty Images
Ryan Lochte Reportedly Held At Gunpoint At Rio Party, But Doing Well
Have the 2016 Rio Summer Olympics been eventful or what? Michael Phelps and Katie Ledecky continue to be amazing in the swimming pool, people are breaking records left and right, and the United States continues to dominate the Olympic medal count. But there have also been some negative things to add to these eventful past two weeks. On Friday, gold medalist Ryan Lochte was reportedly held at gunpoint at a Rio party but is okay and reportedly doing well.
Update: According to USOC spokesman Patrick Sandusky, four U.S. swimmers, including Lochte, Gunnar Bentz, Jack Conger, and Jimmy Feigen, were robbed at gunpoint "by individuals posing as police officers as they headed to the Olympic Village," CNN reported. "All four athletes are safe and cooperating with authorities," Sandusky stated.
According to The Telegraph, Lochte was reportedly invited to the party in question by Brazilian swimmer Thiago Periera. According to The Independent, the incident happened after Lochte and three other American teammates were invited to the party. Lochte's mom called in to Fox Sports News to describe the incident as "terrifying." According to RT.com, Lochte is reportedly now safe at the Team USA swimming base.
According to People, Lochte's Snapchat confirms that Lochte was out partying on Saturday night. Lochte posted several snaps of him out with other people and another picture of a bunch of people wearing sneakers in a circle.
Details are hazy as more information about the night continues to trickle out from the Olympic Village and onto Twitter. The first person to report about the incident was Fox Sports journalist Ben Way, who took to his Twitter to break the news at 9:30 a.m. local time on Sunday morning:
According to a tweet by Ben Rumsby, reporter for the Daily Telegraph, heads of the International Olympic Committee are denying Lochte's reports.
However, according to USA Today, who spoke with Lochte's mother Ilena Lochte on Sunday morning, the reports are true, with Ilena confirming the report to the newspaper and saying that her son was unharmed. She told the outlet:
I think they're all shaken up. There were a few of them. No, they were just, they just took their wallets and basically that was it.
According to USA Today, Ilena Lochte is currently on her way to Rio to see her son.
Despite what Lochte's mom is saying, Lochte's personal swimming coach, David Marsh, has denied the reports and told USA Today by text message that Lochte "was not held up." But even Marsh is trying to figure out what happened, just like every one else.
Ilena reportedly told USA Today that Lochte's wallet was stolen and he notified her of the incident by text message after it happened.
Lochte is a 12-time Olympic medalist and won one gold medal during the Rio games in part of the 4x200 freestyle relay. And in spite of all the conflicting reports, Lochte has remained silent on his social media — hopefully sleeping off the reported event that happened on Saturday night.
As the details from Saturday night continue to emerge and the Olympic athletes involved release statements pertaining to the incident, the clearer the image of Saturday night will become. But hey, nobody said that the Olympics weren't eventful.
Team USA and Lochte's representatives did not immediately return a request for comment.