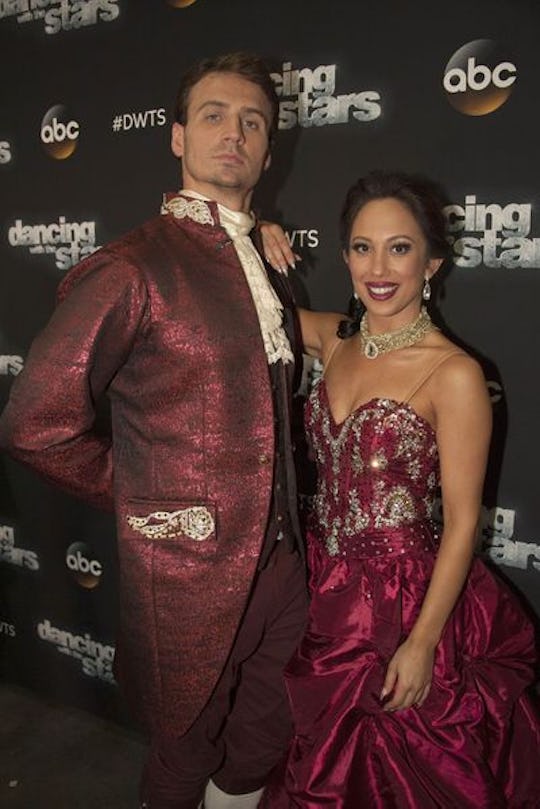 Eric McCandless/ABC
Ryan Lochte Was Eliminated On 'Dancing With The Stars' & He Will Definitely Be Missed
Monday night was Halloween night on Dancing With the Stars, but just because it was a holiday didn't mean that the cruel meanies who produce the show were going to let our competitors slide. Ryan Lochte was eliminated on Dancing With the Stars and will definitely be missed. This far into the competition, everything is getting much tighter, and much more difficult. The dances are getting harder (and more numerous) and while all the stars are worlds away in terms of dance skills than where they started, not everybody has what it takes to earn that Mirrorball Trophy at the end. And on Halloween, the dances were better than ever. Unfortunately, Ryan wasn't able to take it home.
This week also involved a little shake-up, and that was the last minute dance-off. Those dancers who were not James Hinchcliff and Sharna Burgess, who had earned immunity due to having the highest total scores, faced off against each other for a side-by-side competition. At the end of their short routines, the judges decided who they thought the winner was, while at the same time viewers (in Eastern and Central Time Zones) voted as to who they thought the best partnership was. Even though Ryan and Cheryl won their dance-off against Marilu Henner and Derek Hough, it wasn't enough to save them from elimination.
Ryan and Cheryl's first dance was an ambitious Tango, in which Bruno Tolioni called Ryan a "Prince of Darkness." Unfortunately, this prince had a bit of a problem keeping his stature upright throughout the dance, and the judges generally agreed that it was something he'd have to work on. Even his partner Cheryl agreed that Ryan would have to step it up a notch (or two) this week. Though she definitely put him through the ringer as far as dance technique went — the words "Cheryl's house of pain" were used — it was unfortunately Ryan's time to be sent home, after earning a score of three straight sevens from the judges this week.
Luckily, Ryan had the satisfaction of winning his dance-off against Marilu before he left, which means he got to go out on a high note at least.