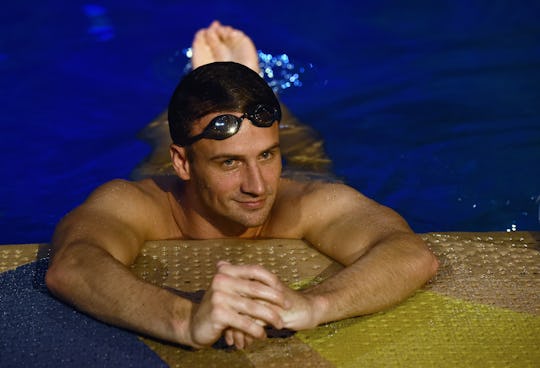 Ethan Miller/Getty Images Entertainment/Getty Images
Ryan Lochte's Fiancee Kayla Rae Reid Is Pregnant With Their First Child
Let's be honest: Olympian Ryan Lochte has had one hell of a year. Talk about your roller coaster of emotions, right? While he has seen his share of controversy in 2016, it looks like he will be ending the year on a sweet high note: Lochte's fiancée Kayla Rae Reid is pregnant with their first child, and swimmer Lochte looks ecstatic.
Lochte and Reid, a former model, got engaged on Oct. 9 at their home in Charlotte, North Carolina. They have been together since they were matched on Tinder last January, following each other on social media sites before that in true millennial dating fashion. And the creme de la creme? Their first date was a drink at a nightclub and a Justin Bieber concert. Reid told Cosmo the two bonded over their shared "life goals and morals" on that first date, and have been together ever since. By March, Reid had given up her Los Angeles apartment to move in with Lochte in Charlotte, and by October the two were married. And now... now baby is going to make three. Lochte took to social media to announce the pregnancy with an adorable picture of him kissing Reid's newly pregnant belly on Wednesday.
Lochte captioned the photo of the couple in the pool (where else?) with:
My Christmas gift came early this year, can't wait for next year! Best news I've ever received!
For her part, Reid shared a similar image with the caption:
Just when you think you think you have it all figured out, life always surprises you with blessings when least expect it. So excited to share this news with all of you!
Lochte and Reid have had a tough few months, particularly after Lochte found himself at the center of an international scandal near the end of the Rio Games. Lochte told first his mother and then former NBC correspondent Billy Bush that he and some of his fellow Olympic swimmers had been robbed at gunpoint during a night out. Local police questioned the swimmers and soon found that their stories were fabricated. Lochte flew home while his teammates had their passports held and continued to be questioned by police; he came home to a torrent of outrage from both fans and the media. Fortunately, he had Reid at his side (although they kept their relationship secret at the Olympic Games) and the two bonded during that difficult time. As Reid told Cosmo:
You kind of felt violated, in a way. Yes, he did let down a lot of Americans, and Brazilians as well, but at the same time, it felt like it was a murder case or something. It was something just completely, I don't know, catastrophic.
Now that the furor has finally died down, the pair can concentrate on the next stage of their lives; becoming Mom and Dad to a little baby Lochte. Reid once told Us Magazine that Lochte wanted kids "really badly" and it was a vision she shared:
It's another thing we have in common: We both want kids, we want to create a family of our own, and I think that's something that's really important to us as well.
What a way to end a long, crazy year than to find out you're becoming a parent, right? Congrats to Lochte and Reid.