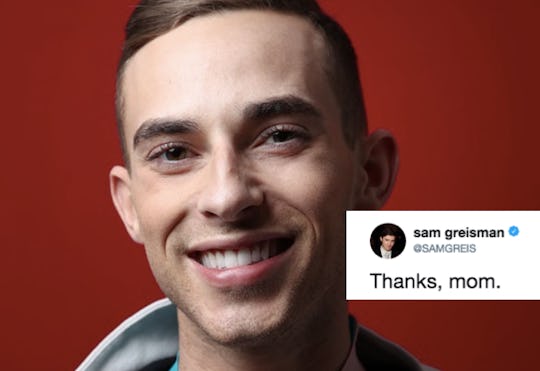 Marianna Massey/Getty Images Sport/Getty Images
Sally Field's Son Finally Met Adam Rippon IRL & The Internet Is SO Happy
The Olympics are all about making dreams come true. And not just for the athletes. This weekend, Sally Fields' son finally met Adam Rippon and the Twitterverse is loving it. Just in case you don't recall, during the 2018 Winter Games, Sally Fields tweeted that she wanted Rippon and her 30-year-old son, Sam Greisman, to meet up, since, like basically everyone else, he was crushing hard on the figure skater. Greisman shared screenshots of a text exchange he had with his mom in which she called Rippon "insanely pretty," and advised him to "find a way" to make it happen.
Fields retweeted her son's picture and then tagged Rippon in the exchange, which is totally mortifying. Greisman responded, "Yikes" as any of us would do. Like, really mom? In an interview with BuzzFeed, Fields said, "Sam was mortified. I have to bud out now..but I would like to see Adam in the family." Rippon seemed into it. He told BuzzFeed in response, "Sam, your mom — I admire her. I'm sure one day we're going to meet! So thanks, mom."
Hilariously, that day came a lot sooner than they might have thought. On Saturday, the two ran into each other at the Human Rights Campaign Los Angeles Dinner, where Rippon was given the Visibility Award. Greisman tweeted a picture of them together with the caption, "thanks mom." See? Meddling in your child's life isn't always a bad idea.
It Was Meant To Be
Twitter Was *Loving* It
Obviously, people had questions and unfortunately, we don't have a lot of answers. Like, was it just a meet and greet or did they sit and talk for hours? Did they go out to party afterward? Are they hanging out right now in Los Angeles?
It was a pretty big night for Rippon, so it might have all been a blur. Actually, it's been a big month for the figure skater since he charmed his way into all of our hearts with his hilariously snarky tweets and commentary during the Olympics. And, of course, his amazing athletic talent. He's out there, just inspiring everyone. HRC president Chad Griffin described Rippon as "fierce" in a statement announcing the Visibility Award. He added:
By being out and proud, Adam is bringing LGBTQ visibility to a whole new level while capturing the hearts of millions around the world with his incredible talent and personality. He isn't afraid to use his global platform to speak out for equality, and we are proud to honor him with the HRC Visibility Award at the 2018 HRC Los Angeles Dinner.
The figure skater has been using his platform and sudden fame to show love and solidarity for LGBTQ youth. (And not just meeting Hollywood royalty, though that has to be fun, too). He told Ellen DeGeneres about his work with the Youth Engagement Program at GLAAD, according to Billboard. "We're getting these kids, and they're becoming activists in their community. When I was young, to have had somebody out there to look up to… it would have made a world of difference, it would have changed my life."
Rippon is more than just a pretty face, obviously. Some people were annoyed that Rippon took on the Trump administration during the Olympics. He told The New York Times that he has no regrets:
I know a lot of people think, 'You know, you don't need to make everything political.' But if you have somebody who's the representative of the country or a representative of all of the athletes there and they're on record stating that they think that gay marriage could be the societal collapse of America? As a gay person, representing the United States at the highest level of sport, yeah, I have a problem with that. I don't feel like that's representative of me.
He added, "It's your chance to speak up for those people who really don't feel like they have a voice. I was asked a question and I just answered it really honestly and you know, I'm a 28-year-old taxpaying voting man. As a fully grown adult, it's important for me to voice my concerns."
It's a busy time for Rippon for sure. Hopefully, he can make some space in his schedule for Greisman. If only for Sally Fields' sake.
Check out Romper's new video series, Romper's Doula Diaries:
Watch full episodes of Romper's Doula Diaries on Facebook Watch.